'This didn't have to happen'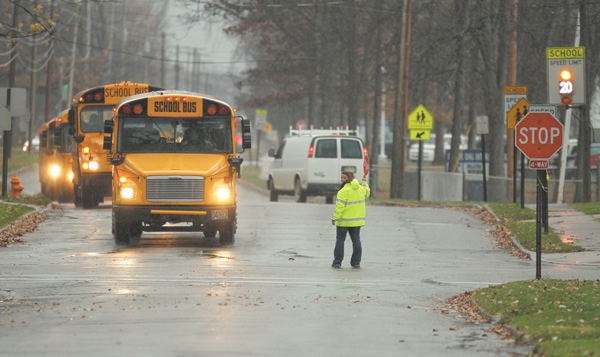 ---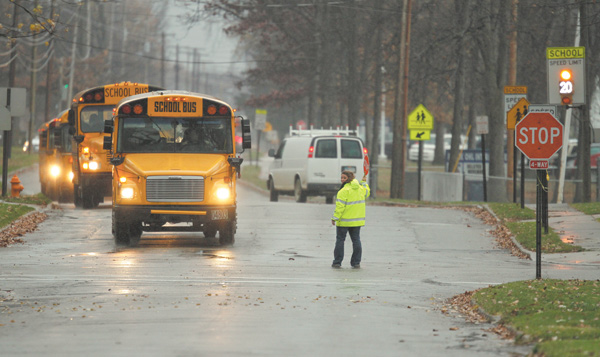 Photo
An Austintown schools crossing guard stops traffic on Idaho Road at Woodhurst Drive on Monday. Last week, Darcy Fletcher, another crossing guard, was struck by a vehicle on Idaho. She suffered a fractured skull and remains hospitalized.
By Denise Dick
Austintown
A school crossing guard struck by a vehicle after school last week is recovering in the hospital, but her family and friends worry about the safety of others who do the job.
Darcy Fletcher, 43, suffered a fractured skull and bleeding on the brain, according to her twin sister, Dana Kosco.
Fletcher, who had worked as a school district crossing guard as well as crossing-guard coordinator for about two months, was working Thursday afternoon when she walked into Idaho Road to cross children.
An SUV had stopped in the road, but a van behind it struck the back of it, which then struck Fletcher — throwing her into the air and onto the pavement, her sister said.
"They heard her head hit the ground," Kosco said.
A police report was unavail- able Monday because police administrative offices were closed for the Veterans Day holiday. Police Chief Bob Gavalier couldn't be reached.
Some of Fletcher's friends are selling T-shirts to raise money for her. Kosco, who also works in the school district, is trying to organize some other fundraisers.
Fletcher lost her job at General Motors a few years ago and has no health insurance.
Fletcher spent two days in the intensive-care unit before being transferred to a regular room. Her sister said she'll likely be in the hospital for a couple of more days and then be transferred to a rehabilitation facility.
"She's holding her own," Kosco said. "She's talking a little bit and eating a little bit."
But she's still in a lot of pain. "This didn't have to happen," she said.
Dan Bokesch, the school district's curriculum director, supervises the crossing guards and also knows the family. The twins and their brother were students at the former Austintown Middle School when Bokesch was a teacher there.
"They're wonderful people, a wonderful family and very much part of the Austintown community," he said.
Superintendent Vince Colaluca said Fletcher took her job seriously and did it well. He urged drivers to be watchful while traveling through the area where buses and children are leaving from or arriving to school.
"We just please ask people to be more cautious," he said.
Bokesch agreed. "People have to be a little more cautious and a little more patient," he said.
If there's an alternative route drivers could follow during school dismissal and start times, it may be advisable for them to take it, the superintendent says.
Becky George worked as a crossing guard but quit Oct. 31 because she thought it was too dangerous.
"I was gone for a whole week and then Darcy got hit by a car," George said.
She returned to the job Monday to fill in while Fletcher recovers.
"Today I had a guy go around me when I was standing in the middle of the road," George said, who added she was holding a stop sign and a flashing baton.
Other motorists travel through the school parking lot to try to avoid the buses.
"People tell us we're making them late for work," George said. "Find a different way or leave earlier is what I tell them."
She said many motorists also speed through the school zone.
"There's a lot involved in being a crossing guard," George said. "It's stopping traffic, getting the kids safely across the street, getting the buses out. It's a lot more than people think."
The mother of four says her family is frightened for her safety now that she's returned to the job.
Rochelle Tharp, a friend of Fletcher's and Kosco's, organized the T-shirt fundraiser. Shirts are available for $10 by calling Tharp at 330-792-7551, Tammy Johns at 330-951-8989, or at Jones and Associates where they are being printed.
The shirts read "Team Darcy" with a school bus on the front and the letters of Fletcher's first name forming "Drivers Aware Recognize Crossing guards & Youth" on the back.
Tharp's 10-year-old son was on his way home on the bus Thursday and witnessed the accident. He was shaken up but has recovered.
The congestion is caused by buses for two schools leaving at the same time because of the district's construction project, she said. Many people don't pay attention while traveling through the area, and many don't know the laws, she said.
"People don't think they have to stop when they see a bus," Tharp said.
Meanwhile, counselors were at a Salem Elementary School on Monday after a student was struck and killed Friday night while walking along East State Street.
Olivia Thompson, 9, "was a vibrant, energetic person," said Cindy Viscounte, principal of Reilly Elementary School.
"We all loved her and will miss her dearly."
Todd R. Roberts of Washingtonville turned himself in to Salem police Saturday. He's charged with felony failing to stop after an accident.
Viscounte said school officials started planning their response to Olivia's death during the weekend. Staff and counselors met students Monday morning as they got of the school buses.
Students have a lot of questions, and some just wanted to talk about their good memories of their classmate, the principal said.
"There's been a range of emotions and a range of questions," Viscounte said. Counselors will continue to be available for as long as students need them.
"Our hearts are very heavy," she said.