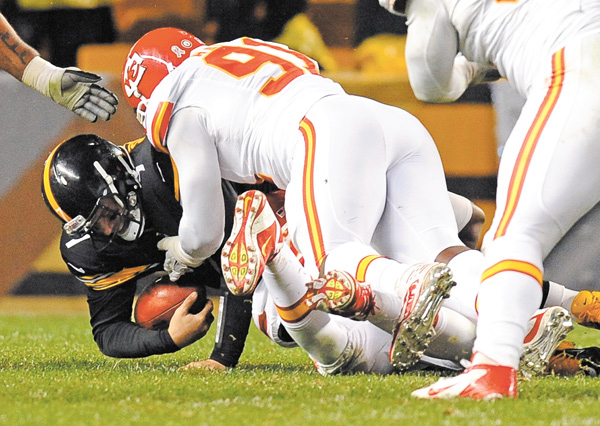 ---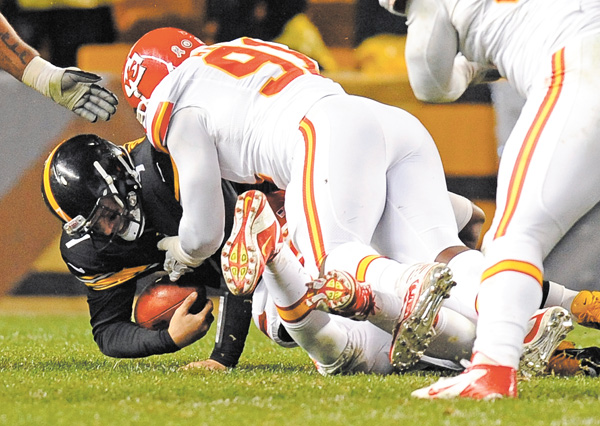 Photo
The Kansas City Chiefs' Tamba Hali (91) assists as teammate Justin Houston (bottom of pile) sacks Pittsburgh Steelers quarterback Ben Roethlisberger during the third quarter of Monday's NFL game at Heinz Field in Pittsburgh. Roethlisberger left the game with a right shoulder injury, but the Steelers went on in 16-13 in overtime.
Overtime interception saves Steelers
Associated Press
PITTSBURGH
The Pittsburgh Steelers escaped with a victory. The health of their franchise quarterback is another matter entirely.
The Steelers edged the woeful Kansas City Chiefs 16-13 in overtime on Monday night but lost Ben Roethlisberger for most of the second half — and perhaps a lot longer — with a right shoulder injury.
Roethlisberger left the game early in the third quarter after getting slammed to the turf by Kansas City linebackers Tamba Hali and Justin Houston and did not return.
The Steelers (6-3) won their fourth straight anyway. Shaun Suisham kicked a 23-yard field goal 51 seconds into the extra period, one play after Lawrence Timmons intercepted Kansas City's Matt Cassel and returned to the 5.
Jamaal Charles ran for 100 yards and a score for the Chiefs (1-8), who have lost six straight.
Ryan Succop hit a 46-yard field goal as time expired in the fourth quarter to help the Chiefs force overtime.
The Chiefs forced a punt at the two-minute warning and drove 52 yards to set up Succop's tying field goal. Matt Cassel hit Dwayne Bowe for 27 yards to the Pittsburgh 28 on a fourth and 15, and the Chiefs sprinted to the line of scrimmage for a spike to kill the clock with a couple seconds left and set up the field goal attempt.
Succop missed from 33 yards in the third quarter but made a 22-yarder early in the second.
Entering the game, Kansas City had not held a lead in regulation yet this season but the Chiefs grabbed a 10-0 lead at rainy Heinz Field, scoring first on Charles' 12-yard touchdown run midway through the first quarter.
Suisham hit a 35-yard field goal and Mike Wallace had a tying 7-yard touchdown catch for the Steelers.