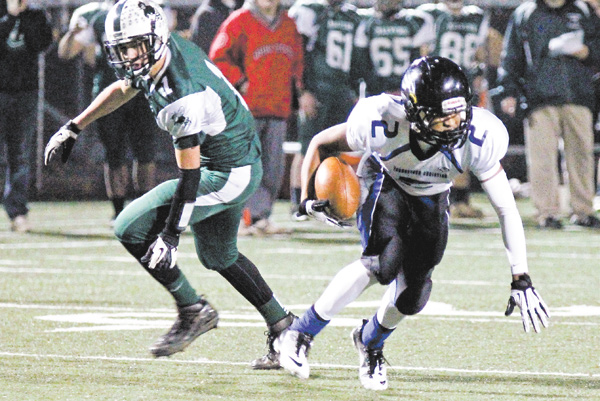 ---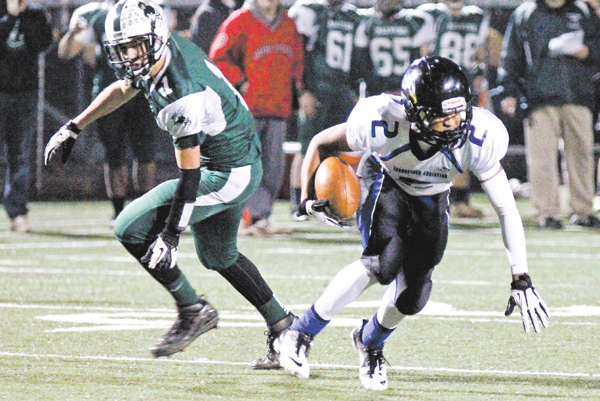 Photo
Youngstown Christian's Darrien Townsend (2) keeps his balance after being hit by Malvern's Nick Mohr (1) during the second quarter of Friday night's Division VI regional semifinal at Akron St. Vincent St. Mary High School in Akron. YCS won, 25-20.
By Steve Ruman
By the time the postseason reaches its third week, coaches often find themselves scurrying for information on an unfamiliar opponent from an unknown town.
However, the coaching staffs at Brookfield, Ursuline and Youngstown Christian won't have to dig deep to get the scoop on their next opponent.
All three schools have advanced to the third round of the Ohio High School Athletic Association playoffs. This weekend, they will each face a familiar foe as they play for a regional championship and a berth in the state semifinals.
Brookfield (12-0) will seek just its second regional title in school history when it faces Norwayne (12-0) in the Division IV, Region 13 final. The two teams meet Friday at Bulldog Stadium in Stow.
The Warriors advanced with a 55-14 win over Akron Manchester. They have outscored a pair of playoff opponents 93-28.
Norwayne has outscored its two postseason opponents 102-14. On Friday, the Bobcats downed Liberty 54-7. It marked the third time in 13 months that the Cats have defeated an area team in the postseason.
It was Norwayne who last year knocked the Warriors out of the playoffs with a 42-7 first-round win. Norwayne then defeated Girard in the Region 13 title game. The Bobcats, winners of 18 straight, went on to capture the Division IV state title.
"Our kids are well aware that this is the only team that has beaten us in the last 15 months," said Brookfield coach Randy Clark. "I think they've been waiting a long time for this opportunity."
Clark described his team's play against Manchester as "the best overall performance this year," and said his players are anxious to have another shot at the Bobcats.
"They came in to watch film (Sunday), and they were very loosey-goosey. They have a great mindset," Clark said. "They also are very determined. I know that practice this week is going to be extremely intense."
Ursuline (8-4) advanced to the Division V, Region 17 title game thanks to a 44-15 win over Cuyahoga Heights. Next up for the Irish is Kirtland (12-0).
The Irish and Hornets play Saturday at Veterans Stadium in Aurora. It marks the third time in five years that the two schools will meet in the regional final. In 2009, Ursuline prevailed 18-17. A year later, the Irish posted a 48-0 victory over the Hornets.
In both instances, Ursuline went on to win state titles. However, the Hornets' loss to the Irish in' '10 was the last time they experienced defeat. They have since won 27 straight games, owning the state's longest current winning streak. Last year, Kirtland went 15-0 and captured the Division V state crown.
"Most of the guys on the teams from 2008 and 2010 have moved on, so that has no bearing on this game," said Ursuline coach Larry Kempe. "I will say this. The current Kirtland team is a lot more experienced than any we faced in the past. They know how to win. They will play with anyone."
Following a scare a week ago against Garaway, Kempe was pleased with the performance of his club against Cuyahoga Heights.
"Defensively, we really stepped it up," Kempe said. "Cuyahoga Heights wanted to throw, and our guys did a nice job of applying pressure. It was an overall great team effort."
Youngstown Christian (9-2) will seek its first-ever regional title when it faces Mogadore (12-0) in the Division VI, Region 21 final, played Friday at Gilcrest Field in Ravenna.
The Eagles advanced with a 25-20 come-from-behind win over Malvern.
"Obviously no coach likes being down late in a game, but it was nice to see how we responded to pressure," said YCS coach Brian Marrow. "Our guys showed incredible heart. They refused to quit, and that could have a big impact down the road."
Last year, Youngstown Christian became the first area team ever to beat Mogadore in the postseason. The Eagles downed the Wildcats 20-17 in the quarterfinals.
Prior to that game, Mogadore was 9-0 against area teams in playoff games.
"Mogadore is similar to what they were a year ago, except now they are much more experienced. They returned a ton of talent," Marrow said. "And, they are more multidimensional. They will pose a huge challenge to our defense."
Poland, Hubbard, Liberty, Crestview and Western Reserve were eliminated from the playoffs over the weekend.