Published: Mon, November 12, 2012 @ 12:05 a.m.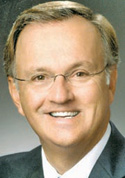 Photo
Ronald V. Gerberry, State representative
YOUNGSTOWN
The idea of legislation to regulate landmen who negotiate oil and gas leases has industry leaders claiming new regulations are unnecessary and complicated. Supporters, meanwhile, argue such changes are needed to deal with an expanding industry.
Ohio House Bill 493 would require registration of all landmen, along with a checklist of information the landmen and the lessee would have to sign acknowledging the property owner understood the leasing contract and the procedures involved in oil and gas production.
Legislation covering the oil and gas industry will continue to evolve, said state Rep. Ronald V. Gerberry, D-59th of Austintown, a bill co-sponsor. State Reps. Robert Hagan, D-60th of Youngstown, and Thomas Letson, D-64th of Warren are also co-sponsors.
"I talked to a legislator in North Dakota, and I don't think we are totally aware of what we're about to see in the Mahoning Valley and the entire eastern Ohio corridor," Gerberry said. "There is a need not only to regulate landmen, but also to ensure that people are protected from the companies that are coming in here."
Gerberry said he supports drilling but wants to make sure laws are in place to protect the public.
Don Fischbach, head of the Energy and Natural Resources practice group at the law firm Calfee, Halter and Griswold, said he is unsure landmen will be able to meet the explanation requirements the proposed law entails. He started his career in the industry as an intercorporational landman.
"The skills of landmen are usually being good communicators and good at earning people's trust," Fischbach said. "They're not typically experts in every aspect of exploration and production."
This bill would force companies seeking to lease land to send experts to every home to explain the process in full details to prospective lessees, he said. It is impossible to describe every potential situation that could come up, he added.
"Every area is different, and in fact every well is different," he said.
Many job functions within the oil and gas industry fall under the title of landmen, and not all of them are responsible for negotiating contracts, Fischbach said. The bill would require all landmen to be registered, including those who do not negotiate deals with the public. "They're very broadly used within the industry," he said.
The one positive about the bill is people would get to see a lawyer before signing a lease, Fischbach said. It is helpful for someone who understands leases to advocate on the property owner's behalf, he added.
The Associated Landowners of the Ohio Valley has wanted for some time a law to regulate the workers who negotiate with landowners, said Alan Wenger, an attorney from Harrington, Hoppe and Mitchell LTD of Youngstown.
"There are all kinds of professions in Ohio that are regulated that are much less important in terms of fiscal responsibility and land use," Wenger said. "There are a lot of independent brokers out there. There's nothing to stop anyone from calling themselves landmen and trying to negotiate contracts."
There is a debate over whether landmen need to be licensed for real estate because the agreements are considered a land agreement, but it does not make sense for real-estate agents to be involved because few understand lease agreements, he said.
The industry claims the regulation is not necessary.
"Ohio's oil and gas regulations are arguably the most stringent and transparent in the nation. These issues have been addressed twice since 2010 in Senate Bill 165 and the recent update in Senate Bill 315, both pieces of legislation that passed with bipartisan support," said Dan Alfaro, spokesman for Energy in Depth, an industry group.
"The measures put into place in these bills ensure the continued safe and responsible development of our oil and natural gas resources without unnecessary regulations that would slow growth and hinder an industry that is driving Ohio's economic resurgence."