Libraries encourage use of e-readers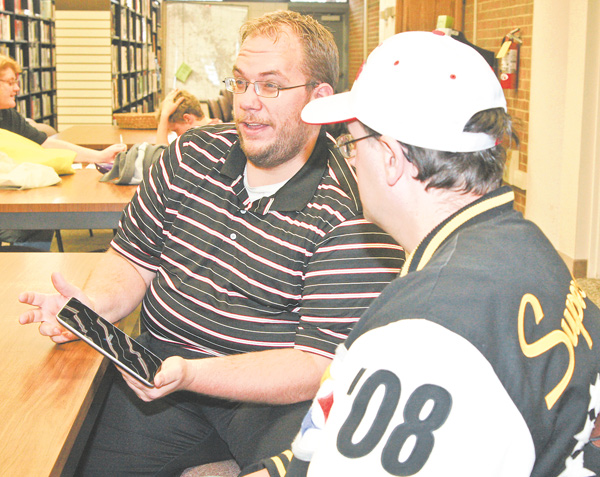 Photo
George Garrett, left, demonstrates new technology to Greg Stevens at the Girard library. Local libraries are taking advantage of new technology to make information accessible to the public.
By Danny Restivo
GIRARD
Some may think the introduction of e-readers and computer tablets may create less demand for books. Instead, local libraries are utilizing the new technology to make information accessible to the public.
"It's the way things are going," said George Garrett, a library employee charged with assisting patrons with e-books and other tablet technology. Garrett was hired a month ago by CLEVENET, a consortium of 38 libraries in Northeast Ohio, to help library patrons at Newton Falls, Niles, Hubbard and Girard harness and understand new technology that the libraries offer, including 40,000 online books and titles.
"As more and more information is being delivered digitally, many individuals are being left behind," said Sherry L. Ault, the Hubbard Public Library director.
With a free library card, Ault said users can access music, books, magazines and audio books from home by going to the library's website, clevenet.org. Unfortunately, she said many library users don't have the technology, or they don't know how to use it. She's hoping Garrett can assist patrons with the technology and inform them of the library's resources.
Garrett has tech- education sessions at all four libraries, and with the holiday season approaching, he thinks tablets will be a popular and affordable gift idea for many. He said he's looking forward to answering and assisting anyone who is unfamiliar with the devices.
"People are just afraid because they don't know how to use them," he said. "But its those people who are the easiest to teach because you can start from scratch."
Rose Ann Lubert, Girard Free Library director, said the introduction of online books saves the library money, but it doesn't bode well if no one is accessing the material. She believes many young people are tech-savvy enough to understand new software, while the older generation has the most difficulty.
"It's a certain segment of society that needs this," she said of Garrett's assistance. Lubert admitted that even she is biased toward a real book but understands how important it is to learn new technology.
"It's the way everything is going," she said.
Garrett, an English teacher at Matthews High School, said the part-time gig is perfect for him, because he enjoys reading and electronics. Garrett said he can teach anything from basic computer skills to help with Android and Apple devices. No matter what the user's tech knowledge is, Garrett has one simple rule: "You have to be willing to learn and tinker around," he said.
Garrett is available from 3 to 8 p.m. at the Newton Falls Public Library on Mondays, the Niles McKinley Library on Tuesdays, the Girard Free Library on Wednesdays and the Hubbard Public Library on Thursdays. If he's not at the listed location, Garrett said he would be at the library the following Saturday from 10 a.m. to 3 p.m.