---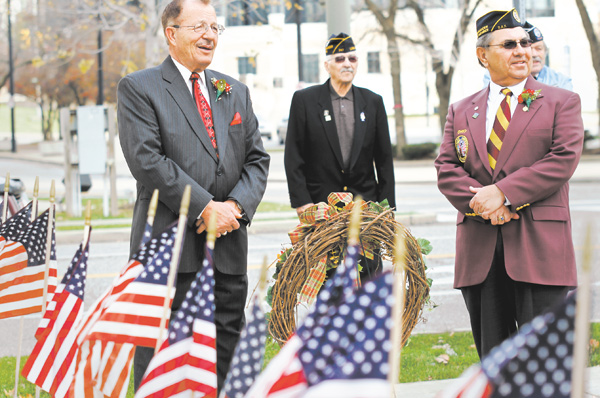 Photo
Col. Walter Duzzny, left, and Bill Pacak prepare to lay the wreath at the Civil War monument in downtown Youngstown during a Veterans Day observance Sunday.
Valley remembers, thanks those who served
By Sean Barron
YOUNGSTOWN
In the early 1950s, Dean McClain was a locomotive engineer, which proved to be a highly risky way to move forward.
Perhaps the biggest risk was serving in that capacity during the Korean War, which in part entailed having to shove other train cars in front of the locomotives to ensure the railroad tracks were free of booby traps.
"We were among Koreans; some of them were friendly, some weren't," recalled McClain, who was drafted in December 1952 into the Army and was a member of its railroad corps.
The 80-year-old Austintown veteran also was among those honored during Sunday's Veterans Day observance in the Mahoning County Courthouse's rotunda downtown. Hosting the 45-minute gathering was the United Veterans Council of Greater Youngstown.
The ceremony was to honor and thank veterans of all military branches for their service to the country and to recognize the men and woman still serving around the world, noted Jan Brown, United Veterans Council's junior vice commander and the event's master of ceremonies.
McClain, who was in Korea in 1952 and 1953, noted that nearly all veterans hold dear honoring the American flag and respecting fellow veterans, regardless of when and where they served.
After his service, McClain and his wife, Carol, spent about 25 years in the jewelry business. They owned four jewelry stores, one each in Youngstown, Philadelphia, Chicago and Jacksonville, Fla., he said.
After retiring, McClain continued reaching out to veterans. To that end, he was commander of American Legion Post 15 in Poland; district commander for Struthers-based AMVETS Post 44; and a member of Veterans of Foreign Wars Post 9947 in Cornersburg.
In addition, McClain served four years as the Korean War Veterans Association's national director and is in his second five-year term with the Veterans Service Commission's Mahoning County chapter.
The ceremony's keynote speaker was retired Army Col. Walter Duzzny, who reminded his audience of about 100 that the men and women who accepted the challenges of being in the armed forces also were others' loyal friends, neighbors, co-workers and associates.
In their civilian lives, many soldiers held occupations such as doctors, teachers, bus drivers, police officers and "every conceivable job before being transferred to the military," said Duzzny, who also was director of the Mahoning County Emergency Management Agency.
"They embarked on a journey, and things changed dramatically in their lives," said Duzzny, who recalled having received his draft notice that led to a military career in which he served more than a combined 20 years in the Army and National Guard.
Even everyday language changed for those in the military. For example, a hat became a helmet or cover, and soldiers had to memorize their service numbers, he continued.
Nevertheless, many got to travel "to places not on a map or in your history book" and often made lifelong friendships, Duzzny concluded.
Also during Sunday's ceremony, participants and attendees walked to the nearby Civil War monument on Central Square, where a wreath was laid to honor all veterans.
The gathering also featured additional remarks from Bill Pacak, UVC's commander, as well as the posting of colors by the Tri-State Marine Corps League, a rifle salute to fallen comrades and the playing of taps.