Gallacher's goal sinks Phantoms again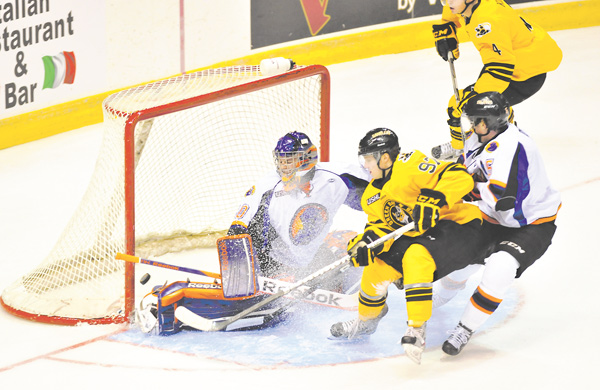 ---

Photo
Green Bay's Grigory Dikushin gets the puck past Phantoms goalie Sean Romeo for the Gamblers' first goal of the game Sunday.
By Greg Gulas
YOUNGSTOWN
Ben Gallacher could not have written a better script to Sunday's game with the Youngstown Phantoms if he had done so himself.
Gallacher's first goal of the season, a power play opportunity with 3:31 remaining, proved to be the game winner as his Green Bay Gamblers defeated the Phantoms Sunday at the Covelli Center.
The win gave Green Bay (6-8-2, 14 points) a weekend sweep of Youngstown (5-11-0, 10 points), running their win streak to four over their Eastern Conference rivals.
"Coach [Pat] Mikesch drew up the play and it worked. I got the pass from Kyle Novak, saw their goalie [Sean Romeo] challenging me so I faked left, brought the puck to my backhand and was relieved when it found its way to the back of the net," Gallacher said.
Grigory Dikushin this time with an assist from Brandon Kirk, slipping his back door, redirect past the outstretched hand of Phantoms goalie Sean Romeo for the early Green Bay advantage.
The Phantoms knotted the game at one when Luke Stork's shot in front of the Green Bay goal found its way past goalie Michael Rotolo's outstretched hand at the 13:17 mark of the second period.
It was Stork's fifth goal of the year.
"We've put together a nice streak over the past week or so," Rotolo said. "Our defensive play over that stretch has just made my job in net that much easier."
The Gamblers regained the lead at 5:50 of the final frame when Sebastian Weberg notched his second goal in as many nights.
The lead was short-lived, however, as Youngstown clawed its way back to knot it at 2-2 when Stork's second goal of the game soared past Rotolo once again, this time at the 7:33 mark.
Gallacher then notched the game winner at 16:28 with an assist from both Novak and Nick Schmaltz.
"This was arguably one of the best games that we played all season. Our compete-level was there and so was our energy-level, which is all that you can ask for," Phantoms coach Anthony Noreen said.
"We've had more than our share of post hits and right now we feel snake bit, but we aren't feeling sorry for ourselves."
The Gamblers held as 36-31 shots on goal advantage, converting two of four power play opportunities while the Phantoms were 0-for-4 with a man advantage and are now 0-for-12 in power play opportunities against the Gamblers.
More like this from vindy.com