For love of country and 'Stinky'
RELATED: A Veterans Day tribute
SEE ALSO: Take time for soldiers monuments tour
Don Freer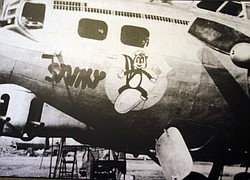 Gallery
By WILLIAM K. ALCORN
alcorn@vindy.com
HOWLAND
After getting his crew out, Donald Freer let go of the controls of his burning B-17 bomber and dived through the front hatch to escape — but his parachute caught and left him dangling.
He dragged himself back into the plane, hard-hit by anti-aircraft fire during a bombing run over Berlin, put his hands across the top of the parachute to hold the corners down and rolled out, this time successfully.
The aircraft, with three of its four engines dead, plunged to earth and exploded. Its bomb bay had been loaded with 1,000-pound bombs.
Freer, a first lieutenant with the 322nd Squadron, 91st Bomber Group of the Army Air Corps' 8th Air Force, based at Bassingbourn, England, during World War II, crashed through branches in a forest of tall pine trees, dislocating his knees when he landed on the ground. He popped his knees back into place and began to hobble away but was captured by German civilians, who he said became belligerent, causing him to fear they might kill him.
A local law-enforcement officer rescued Freer from the civilians and took him to his home where he had his last good meal for quite a while.
He was turned over to German military authorities who, after interrogation, imprisoned him at Stalag Luft 1 at Barth on the Baltic Sea.
Freer was a prisoner of war for about six months before Russian troops captured Stalag Luft 1 on April 28, 1945, and he remained with the Russians until May 15, a week after Victory in Europe Day. He and other airmen POWs were flown to France and then to London via their own B-17s.
He had entered the prison camp a healthy 180 pounds and left weighing 140 pounds and suffering from anemic dysentery.
Ironically the "nose art" on Freer's B-17 was "Easy Does It."
Nose art is the name for images painted on the fronts or noses of American aircraft during WWII.
Freer, 90, who enlisted in the Army Air Corps in 1942 and went on active duty in January 1943, is among several World War II aircraft pilots and crew members featured in a documentary DVD about the sometimes humorous, most often racy pictures of women painted on American aircraft based in England during World War II.
The film, "Nose Art and Pin-Ups," was released this year, the 70th anniversary of the United States Army Air Forces (USAAF) joining the Allied bombing offensives against Germany.
Freer said the most famous nose art was Memphis Belle, the name given the B-17F Flying Fortress that was the first Army Air Forces heavy bomber to complete 25 missions over Europe.
The pilot named the plane after his girlfriend from Memphis, Tenn., and the artwork was a painting of a picture of an attractive, scantily clad woman originally published in Esquire magazine.
The film was made by former British Broadcasting Corp. producer Gail Downey, from Whirlwind Productions, who interviewed Freer at his Howland Home.
Freer piloted 11 bombers during the war, two with nose art titled "Stinky" and "Easy Does It."
In "Nose Art and Pin-Ups," available at www.amazon.com, Freer talks about how "Stinky" came to be his B-17's name.
He said he wanted to name it "Little Stinker," after a Disney character, because it fit the plane's radio call sign, LG S, but the crew vetoed that name in favor of "Stinky."
"There were no military regulations about nose art. I think the powers that were didn't object because they thought the planes wouldn't last that long anyway," Freer said.
Based on interviews for her documentary, Downey explained the popularity of nose art.
"These were young men, thousands of miles from home, who faced death every day. They told me the artwork personalized their aircraft and gave them something to 'pat' before and after every mission. It was also much easier to talk about "Our Gal Sal" or "Turnip Termite" than plane No. 123. People remember names, not numbers."
Freer, the youngest of the 10 children of Floyd and Julia Freer, comes from a military family. Two of his brothers served during World War I, one in the Army and one in the Marine Corps, and another brother served with the Army's 82nd Airborne Division in WWII. Freer's grandfather was a Union soldier during the Civil War. After his discharge from active duty in 1945, Freer remained in the reserve.
Freer, a 1941 graduate of Warren G. Harding High School and a 1950 industrial engineering graduate of The Ohio State University, went back to Packard Electric in Warren after being discharged from the military. He had worked there as a draftsman before the war.
He said he liked Packard but soon longed for something more exciting and went to North American Aviation, the major aerospace company at the time, working in Alabama and California. He eventually was involved in field- and flight-testing rocket engines up to and including those for the National Aeronautics and Space Administration's Apollo program.
At one point, he said his aerospace career got a little too exciting.
In 1962 Freer was working in California in the thick of the developing space age and knew how serious the Cuban Missile Crisis was. He was so concerned he got survival gear for his wife, Mary and their infant daughter, and sent them across the mountains away from the coast.
"It was one of the worst times. I know how close we came to nuclear war. That was more scary than flying in WWII," Freer said.
Today, Freer enjoys his family, son Thomas in Chicago, who studied graphic arts at Youngstown State University and is the family historian; his daughter, Susan Boye, a Liberty Local Schools music teacher; and grandchildren, Kristen Boye, in the ROTC program at Kent State University, and Kayla Boye, a senior at YSU.
He is a member of the 8th Air Force Association, attending occasional reunions, and the Mahoning Valley Chapter of the American Ex-POW Association.
And, he remains interested in his hobby, electronics.
"The family joke, is don't get him a gift if it doesn't have a wire in it," his wife, Mary, said.