Angels of Easter Seals to host brunch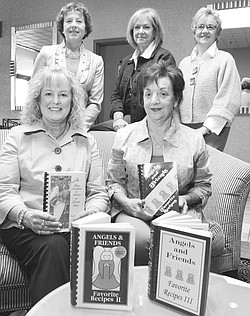 Photo
Angels of Easter Seals Holiday Brunch and Sweet Shoppe committee members, shown with copies of their cookbooks, are, seated, Lynn Sahli, left, reservations, and Joan Zarlenga, president; and standing are Jeannine Hodge and Joyce Dowell, co-chairwomen; and Cheri Raschilla, reservations. PHOTO BY: William D. Lewis | The Vindicator
Staff report
BOARDMAN
Angels of Easter Seals Holiday Brunch and Sweet Shoppe will be Dec. 5 at Mr. Anthony's, 7440 South Ave. Mimosa punch will be served at 10:30 a.m. with the brunch following at 11:30.
The menu consists of frozen cranberry salad, red leaf lettuce salad, seafood bake, provolone chicken, vegetable quiche, pancetta green beans and pizza frita. All recipes are from the Angels and Friends cookbooks.
A variety of cookies and pastries from the Angels' cookbooks will be available for purchase.
Possessions will model its clothes and accessories.
Cost for the brunch is $30 per person. Reservations are due Nov. 23. Guests are welcome.
Send checks to: Angels of Easter Seals, c/o Cheri Raschilla, 595 Gardenridge Court, Boardman, OH 44512. Your check is your reservation.