Events will benefit children's hospital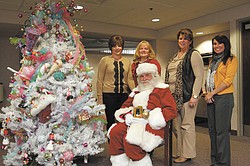 Photo
Members of Kids' Crew of Akron Children's Hospital Mahoning Valley are serving on the event committee for the Jingle Bell Bash, Breakfast with Santa and Holiday Trees of the Valley display that will benefit the hospital. Visiting with Santa, who will be a special guest at the breakfast, are, from left, Margaret Nigro, Joann Stock, Debbie Shattuck and Kelsey Rupert. PHOTO BY ROBERT K. YOSAY | THE VINDICATOR
Staff report
YOUNGSTOWN
Two seasonal events at the Covelli Centre, 229 E. Front St., will benefit Akron Children's Hospital Mahoning Valley the weekend of Nov. 30 and Dec. 1 in conjunction with Holiday Trees of the Valley display to kick off the holiday season.
The Jingle Bell Bash for adults is scheduled from 7 to 11 p.m. Nov. 30 with entertainment by Donnie Iris and the Cruisers. An all-you-can-eat-and-drink evening will include food stations, beer and wine tastings and a desserts of the Valley cookie table with treats provided by local bakeries.
Live and silent auctions and a $1,000 drawing for a door prize will highlight the evening. The cost is $75 per person.
Breakfast with Santa for families is planned from 10 a.m. to noon Dec. 1 and will feature a visit by Santa and his friends, a breakfast buffet, craft and activity stations, face painting, a photo booth and gifts for all children. Guests may take their cameras for pictures with Santa. The cost is $20 for adults and $10 for children 10 and younger.
On display for both events will be Holiday Trees of the Valley featuring trees, wreaths and holiday decorations donated by area businesses, groups and individuals and available for purchase. A Best of Show people's choice award will be presented to the decorator of the tree receiving the most votes by guests at the Jingle Bell Bash. For information on how to donate a decorated tree, call 330-746-9122.
Members of the event committee, the Kids' Crew of Akron Children's Hospital Mahoning Valley, are Kym Baker, Diane Balog, Kathy Brauer, Cassi Calderon, Cathy Campana, Donna Chiarelli, Betty Cmil, Heather Davis, Donna Hayat, Donna Humansky, Bobby Hutchison, Paula Jakubek, Gayle Kelly, Cathy McConnell, Margaret Nigro, Shirley Raseta, Karen Reardon, Sperry Rongone, Kelsey Rupert, Kim Shamps, Debbie Shattuck, Shirley Smith, Viki Stoops, Alexa Sweeny Blackann, Chris Tatarek, Patty Walker, JoAnn Stock, director of development, and Allison Engstrom and Jamie Petrus, development staff.
Tickets may be purchased at www.covellicentre.com. For information and sponsorship opportunities call Stock at 330-746-9122.