Trustees, deputies give Halloween treats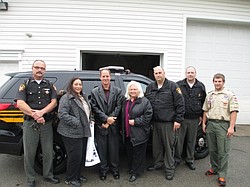 Photo
Neighbors | Submitted.Shown, from left, are Deputy Mike Taylor, Fiscal Officer Carmen Heasley, trustee Anthony Bettile, trustee Marie Izzo Cartwright, Deputy Todd Mariani, Deputy George Garltic and Eagle Scout Anthony Bettile, who helped keep the streets of Canfield safe for Tick-or-Treaters during Halloween. Not pictured is Deputy Mike Hunchuck.
The Canfield trustees and the Mahoning County Sheriff's deputies made Halloween night a little sweeter by handing out bags of candy to all the trick-or-treaters within the township.
In a continued effort to promote safety awareness, trustees Anthony Bettile, Marie Izzo Cartwright and Steve Maszczak partnered with the Sheriff to ensure high visibility on an evening when so many young children are out.
To cover the township, four routes were laid out and the deputies put on their lights as they drove through the neighborhoods. Despite the weather, participating deputies George Garltic, Mike Hunchuck, Todd Mariani and Mike Taylor, as well as their passengers, Bettile, Cartwright, Fiscal Officer Carmen Heasley and Eagle Scout Anthony Bettile, greeted parents and children alike, passing out treats.
The trustees plan to make this an annual event.