YSU men's team optimistic after strong season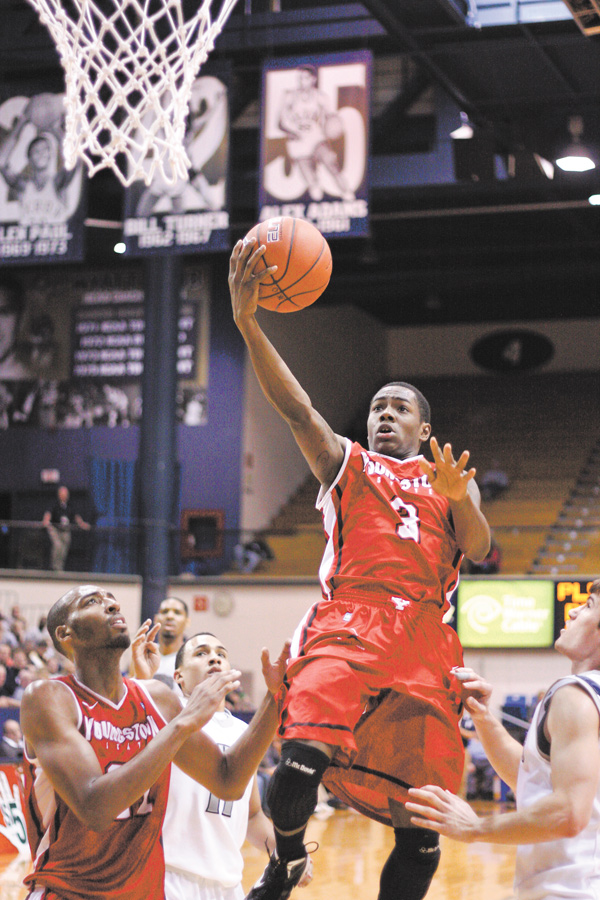 ---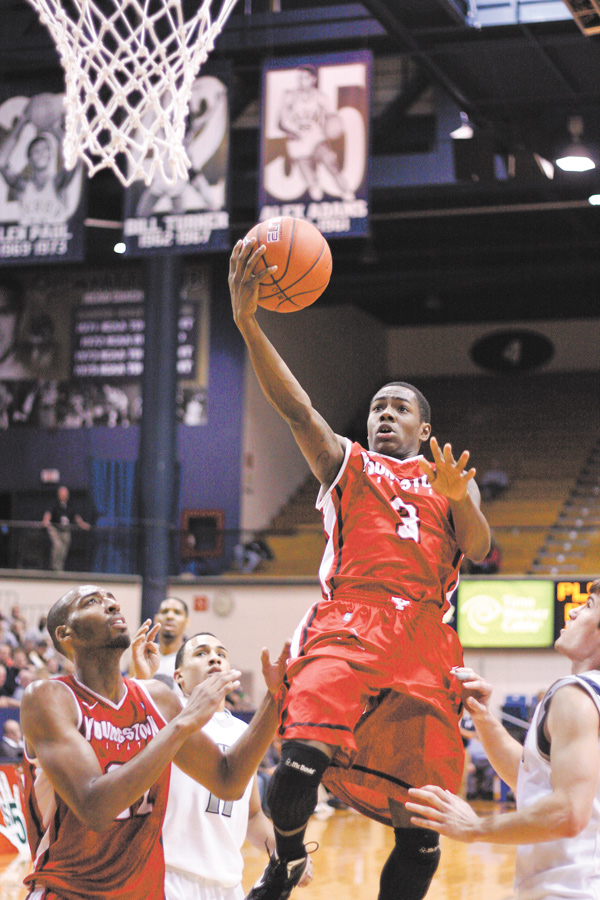 Photo
YSU junior guard Kendrick Perry (3) and senior forward Damian Eargle, bottom left, are two big reasons why Penguin fans are so optimistic about this season. YSU begins its season on Saturday at George Washington.
By Joe Scalzo
YOUNGSTOWN
There are a lot of people who want to see the Youngstown State men's basketball team succeed this season.
Apparently, the schedule-maker wasn't one of them.
Starting with Saturday's game at George Washington, the Penguins play five of their first six on the road, including one against Southeastern Conference member Georgia.
"We're going to be tested by fire," YSU coach Jerry Slocum said. "This is probably the toughest beginning since I've been here."
Still, optimism is high entering Slocum's eighth season. The Penguins went 16-15 last year — their best season since joining the Horizon League. They return three starters (two of them preseason all-conference selections) and they have more size and depth than at any point in Slocum's tenure.
"We've got some questions," Slocum said. "We're putting two guys on the floor starting for us that have never started here. [But] I think this is the most balanced team I've had, in terms of being able to go in and legitimately play nine guys.
"I'm not sure since I've been here that I felt like we had eight or nine Horizon League conference players."
Junior guard Kendrick Perry, a first-team all-conference selection last season who led the league in scoring and steals, is joined by seniors Damian Eargle (an all-defensive team selection last year and second-team all-conference pick in this year's preseason poll) and Blake Allen (who led the league in 3-pointers last season) as the team's lone returning starters.
Sophomore guard Shawn Amiker, who showed flashes of his potential last season, steps into the starting lineup along with newcomer Kamren Belin, a junior forward from Atlanta who transferred to YSU from Cowley Junior College.
The 6-foot-7 Belin, along with returnees Josh Chojnacki (6-9) and Fletcher Larson (6-8) and incoming freshmen Bobby Hain (6-10) and Ryan Weber (6-6) provide much-needed size for a team that relied too heavily on Eargle last season.
"With the new guys coming in, we took care of the height issues that people questioned us about last year," Perry said. "We'll still run like we did last year, at the same time we can box out, get defensive boards and defensive stops to win games."
YSU was picked to finish fourth in Horizon League's preseason poll — its highest ranking to date.
But Perry views that merely as a starting point.
"It shows the respect we're getting, but at the same time, we can't just be held to that ranking," he said. "The sky is the limit for us and we have to approach every day like that."