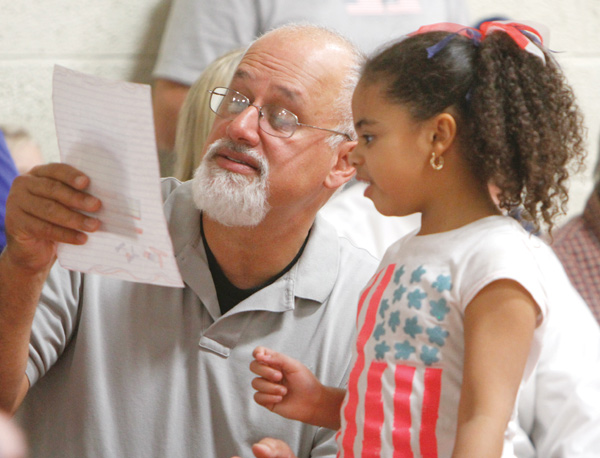 ---
SEE ALSO: Take time for soldiers monuments tour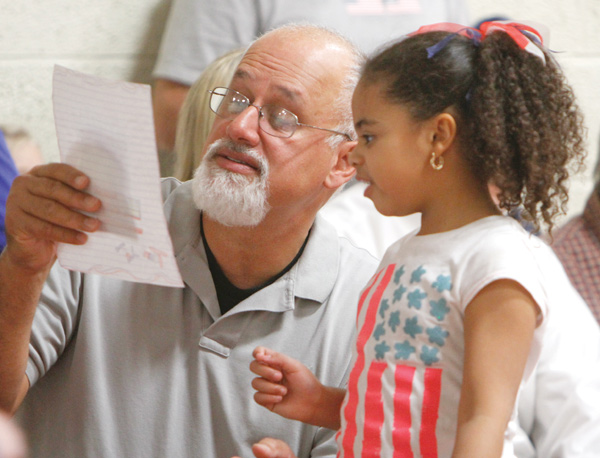 Photo
Ralph Santos, a veteran who served four years in the Navy aboard the carrier JFK, reads a thank-you note from Victoria King, a second-grader at Stadium Drive Elementary School in Boardman. More than 100 veterans attended the event Thursday.
By Ashley Luthern
aluthern@vindy.com
BOARDMAN
As the grand strains of a patriotic march filled the Stadium Drive Elementary School auditorium, a Navy veteran posed a question to his granddaughter sitting on his knee.
"Do you know the name of this song?" asked Pete Klandela.
"No," replied his granddaughter, Kayla Golden.
"It's called 'Stars and Stripes Forever,'" he said.
Kayla, a fourth-grade student, invited her grandfather to the school's Thursday breakfast and assembly honoring veterans. Klandela served in the Navy from 1954 to 1961.
More than 130 veterans, most of whom are students' relatives, came to the event, and local businesses donated food for the breakfast, said Jim Goske, Stadium principal.
"This is our second year doing this, and it's been a great program," Goske said. "... The veterans always express how great the program is, and a few tear up when the kids sing."
During the assembly, students from all grades recited patriotic poems and sang songs, such as "My Country, 'Tis of Thee" and "Fifty Nifty United States."
Stadium Drive kindergarten student Asher Renzenbrink invited his father, Joel Renzenbrink, who has served nine years in the Army National Guard.
"It made me happy," Asher said when asked about having his dad at school Thursday.
Renzenbrink said he was surprised that so many veterans came to the event.
"I think this is really nice and it's a good way for young children who don't understand things of the world ­— to give them an appreciation of what soldiers do," he said. "I hope the school keeps doing this."
Through the program, students "get a sense of history and appreciation for what veterans have done," Klandela said.
Kayla said she learned that "veterans sacrifice for us every day."
"It's nice to do stuff like this and thank [veterans] for what they've done for us," she said.