St. Charles celebrates Halloween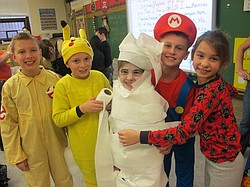 Photo
Students enjoyed themselves as they covered their classmates with toilet paper during several Halloween-inspired games at St. Charles Elementary School.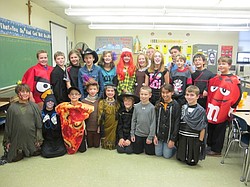 Photo
St. Charles was filled with students sporting costumes of their favorite characters during the school's annual Halloween parade Oct. 31.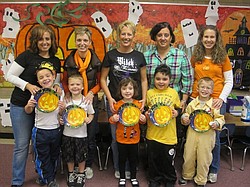 Photo
Neighbors | Eartha Terrell.Students were thrilled to experience a day of fun with their parents during St. Charles Elementary School's Halloween parade.
By EARTHA TERRELL
Students came dressed to impress during St. Charles Elementary School's Halloween parade Oct. 31.
The school enjoyed a day of fun as students walked through the building in their costumes while onlookers cheered. After the parade, students enjoyed a host of activities during their room parties where parents led games and Halloween-themed exercises.
"We have moms and dads here doing Halloween activities. It's wonderful because the parents kind of take over and the students love it. It's a special day," said teacher Barbara Casanta.
Some parents couldn't help but get caught in the excitement as students mummified their classmates with toilet paper and made spider webs out of yarn.
"I love being here. I love dressing up and I enjoy celebrating Halloween," said Lisa Thomas.
The event not only provided a much-needed release for students, but also allowed parents a chance to spend time with their child and meet other parents.
"I like it when a child gets to see their parents in school and their parents get to see their child in a school setting. It helps parents feel that they're part of the school community and also allows the opportunity to get to know each other," said principal Mary Welsh.