Shepherd of the Valley residents get creative during art show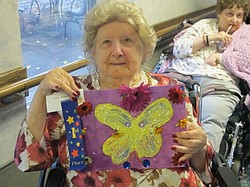 Photo
Josephine Caporossi was proud as she held her painting that won first during Boardman Shepherd of the Valley's Art Show Oct. 18.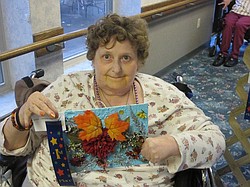 Photo
Boardman Shepherd of the Valley resident, Christine Magielski, showed off her creative skills during the facility's Art Show Oct. 18.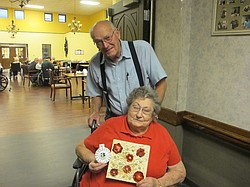 Photo
Donald Barnhart (back) enjoyed spending time with his wife, Marilyn, and viewing her artwork during Boardman Shepherd of the Art Show Oct. 18..
By EARTHA TERRELL
Pictures of colorful butterflies and portraits of scenic landscapes covered the hallways of Boardman Shepherd of the Valley. The facility held an art show for residents to showcase their talent Oct. 18.
"Today was a presentation of all the artwork that's been created over a few months and it was judged by our art director in Niles. They used acrylic paint, stencils and some chalk. It's our first year for our art show. I think it's amazing because we don't go into art class with any ideas, we just give them blank canvases and they just create what they want," said Activities Director Kim Osborn.
Residents tapped into their creative sides and made masterpieces of artwork. Some photos used household items with eccentric designs while others were simplistic in nature. Resident Christine Mageilski, who has always been interested in drawing, was enthusiastic about the event.
"I enjoy it very much. Some other patients say that they can't do it, but I tell them that they have to use their imaginations," Mageilski said.
SOV staff and residents' family members were in awe as they admired all of the photos. Christine's brother, Joseph, was proud of his sister and surprised at how well she did.
"I think that my sister did a good job and I was really surprised, I feel that Shepherd of the Valley is doing a great job. It gives its residents pride and gives them a sense of achievement." Joseph said.