SENIOR SALUTE: BAND EDITION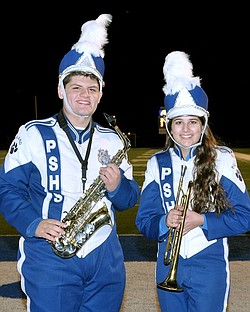 Photo
GEROGE MONCILOVICH (left) and MYRANDA D'APOLITO (right).
Names: Myranda D'Apolito and George Moncilovich
Instruments: D'Apolito: Trumpet; Moncilovich: Alto Saxophone
Q. When did you start playing your instruments?
A. D'Apolito and Moncilovich both began playing their instruments in the fifth grade at McKinley School. Moncilovich would also like to learn to play the flute, since a flute is similar to a saxophone.
Q. Best memory of being in band/marching band?
A. D'Apolito said her best memory of band is right now — her senior year. The last week of band camp they had a huge water balloon fight; underclassmen against the upperclassmen. She said that they spent weeks filling the balloons just to get ready for the big day. D'Apolito said she will always remember this because it brought everyone together and they had so much fun.
Q. What band trips did you attend, and which trip was your most memorable?
A. D'Apolito has many trips that she will always cherish. Some of her favorites are the trips to Ohio State for Jazz Band and the Opera House for concert band, but the most favorite would be the trip to Disney World in 2010.
Moncilovich will always remember his trip to New Orleans in January 2012 to attend the BCS Championship Game. He enjoyed walking down Bourbon Street with his friends and meeting many different people.
Q. Why is music important to you?
A. Moncilovich enjoys playing his instrument because music allows him to express his emotions in ways that speaking out cannot. It is a very important part of his life.
Music has remained constant through D'Apolito's life, and it has been there to help her through tough times and to enhance good times. What she loves most about music is that no matter what happens, it will always be there for her to turn to.
Q. What college do you hope to attend/intended major?
A. D'Apolito would like to attend the University of Pittsburgh with a major in Pyschology.
Moncilovich hopes to attend Kent State University or Akron University with a Computer Science major and a minor in Finance.