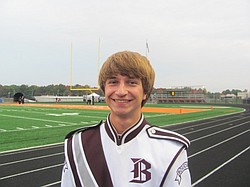 Photo
Name: Travis Filicky
Instruments:
Alto and Tenor Saxophone
Q. When did you start playing your instrument?
A. I started playing in the fifth-grade band at Boardman Center Middle School.
Q. If you could play any other instrument, what would it be and why?
A. I would play percussion. They have a vital role in any band, and the variety of instruments intrigues me.
Q. Best memory of being in band/marching band?
A. Friday night football games are always the best. Cheering in the stands beside all your friends and behind your football team is a truly exceptional experience every week.
Q. What band trips did you attend?
A. With the marching band, I traveled to New York for the Veteran's Day parade, Washington D.C. for the Cherry Blossom Festival parade, and Florida for a parade in the Magic Kingdom. I will travel this November to Chicago for the McDonald's Thanksgiving Day parade. With the jazz ensemble, I attended trips to Cleveland and New York.
Q. Why is music important to you?
A. Music is a way of expressing yourself. I also enjoy studying music because it is a beautiful skill to hone and improve upon. But most importantly, music is something I will be able to take away after graduation and enjoy for the rest of my life.
Q. What college do you hope to attend/intended major?
A. I plan to attend an Ohio college to pursue pre-law or a communications major.