Local group raises money to fight breast cancer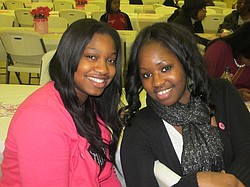 Photo
Sha'Kayla Eiland (left) and Keyera Clark sported pink attire to show their support for breast cancer awareness during at St. Micheal's Social Hall Nov. 27.

Photo
Breast cancer survivor, Donna Richrdson, spoke candidly about her experiences with audience members during a fundraiser hosted by EBE Nov.27.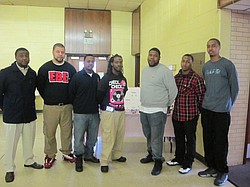 Photo
Neighbors | Eartha Terrell.Members of the organization EveryBody Eats (EBE) hosted a spaghetti dinner at St. Michael's Social Hall to raise money for the Susan G. Komen foundation Nov. 27.
By EARTHA TERRELL
Community members enjoyed food while they helped support a good cause during local entertainment company, EveryBody Eats' (EBE), spaghetti dinner to raise money for breast cancer research at St. Michaels Social Hall Nov. 27. The organization sold dinners for $10 each and donated 50 percent of the proceeds to the national Susan G. Komen foundation.
"We wanted to do something positive in the community because breast cancer is a serious issue and we want to fund all we can to help support research for a cure. It has gone well. We've had several speakers and there's a lot of positive energy in the atmosphere. I think the event turned out great," said EBE President Calien Scott.
Participants also enjoyed games, a 50/50 raffle and prizes. The event not only raised monetary donations for breast cancer awareness, but also gave those who have survived the disease an opportunity to share their experiences and helpful information with others.
Breast cancer survivor Donna Richardson, who was diagnosed with the disease in 1996 and 2008, was elated to share her journey and share how she used her faith to survive.
"I've always gone to church and been a firm believer. When I was first diagnosed in 1996, I immediately said it may have come in my body, but it has to go in the name of Jesus. Others who are dealing with the disease need to know that it isn't a death sentence and that they too can be a conqueror. You have to grab onto strength spiritually and naturally. I'm glad that I was invited here and was able to use the platform and share information. I'm was able to meet people, network and exchange support," Richardson said.