Little Cards win third straight title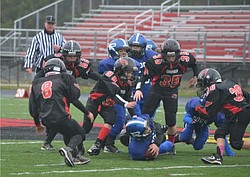 Photo
The Canfield 120-pound defense converges on the Poland ball carrier during last weekend's game.
The Canfield Little Cardinals 120-pound football team won its third straight championship, beating the Austintown Little Falcons 44-0 in the YAC Super Bowl last Sunday in Hermitage.
Not only did the Cards secure a third consecutive title, they finished the season 11-0 and did not allow a single point this season. Canfield outscored its 2012 opponents a combined 440-0.
The team has now won 24 straight games dating back to the 2010 season and is 31-1 in its last 32 starts.
In the 2012 title game, Canfield forced the Falcons into three-and-outs on their first eight possessions, racing out to a 38-0 halftime lead.
Ethan Fletcher set the tone as he started left and then cut back right and outran the defense for 31 yards and a touchdown. Andre Crump added the conversion to make it 8-0. Peyton Kostelic burst into the Falcons' backfield on the ensuing possession to force a fumble that was recovered by Santino Marucci at the Falcons 40. Three plays later, Fletcher raced 18 yards around left end for a score. He then tossed a conversion pass to Pat Guerreiri for a 16-0 Canfield lead.
The Cards struck quickly on their next possession when Crump sprinted 38 yards around right end for the touchdown, Marucci threw to Greg Karas for the conversion and a 24-0 advantage at the end of one quarter. Fletcher made it a hat trick when he weaved 45 yards through the Austintown defense to pay dirt, Marucci tacked on the conversion to make it 32-0.
Crump tiptoed down the sideline 25 yards to the Falcons 7, where Marucci blasted eight yards behind Gavin Tareshawty and Angelo Cestone blocks for a 38-0 Canfield halftime lead.
Fletcher, who led all rushers with 152 yards on six carries, put the finishing touch on the Canfield's win when he scored his fourth touchdown of the day on a 22-yarder for the final margin.
Crump added 112 yards on six tries as Canfield piled up more than 300 yards on the ground. Cited for their stellar offensive line play were Alex Smyczinski, David Noday and Anthony Orr. The defense was led by Seth Hull, Michael Gonda, Mario Mavar, Jake Kowal, and Logan Torok. Canfield was coached by Tom Donadee and assistants Jason Marucci, Derrick Fletcher, Craig Tareshawty, Steve Coonce, Andre Crump and Gino Morrell.
The Cards will travel to Cleveland on Thanksgiving weekend to compete in The Midwest Youth Football National Championships.