Junior Achievement celebrates 60th anniversary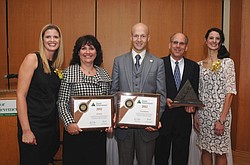 Photo
The Junior Achievement program celebrated 60 years of community service during its anniversary celebration Oct. 18. Honorees included, Michele Merkel (left), Jill Martin, Chris Jaskiewicz, Bruce Sherman, and Heather Chunn.
By EARTHA TERRELL
Junior Achievement of Mahoning Valley celebrated 60 years of community service during the organization's anniversary ceremony Oct. 18.
The celebration honored several individuals and organizations that have worked alongside J.A., to promote financial education for more than a decade. Honorees included Fitch High School teacher Jill Martin; VEC Inc. volunteer Chris Jaskiewicz; J.A. Board member Bruce Sherman; and J.A. Board Chair Heather Chunn.
"The celebration gives us the opportunity to stop and celebrate the impact that we're making. We look over the last 10 years and look at what individuals and organizations have had a great impact on J.A. said President Michele Merkel.
The organization, which assists students from kindergarten to 12th grade, teaches its participants financial literacy through hand-on experience and activities. Since its humble beginnings, J.A. has helped more than 312,000 students and has worked with more than 14,000 volunteers.
"We're a growing program and always in need of more volunteers. We want to prepare students for real work and for a global economy. The skills we teach them will make them successful," Merkel said.
For more information, call 330-539-5268.