Hartzell scholarships awarded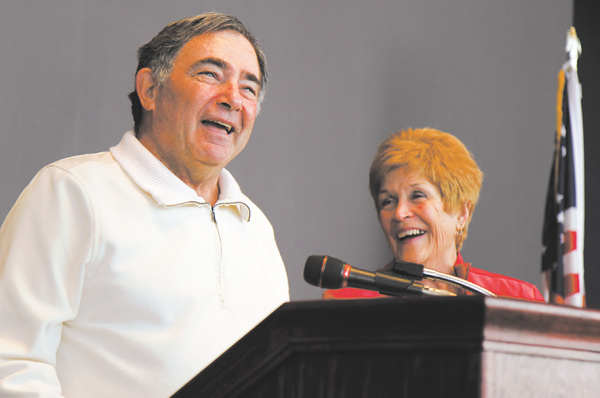 Photo
Howard Hartzell speaks to the recipients of the 2012 Michael T. Hartzell Memorial Scholarship at a luncheon at Youngstown State University's DeBartolo Stadium Club. He was joined Tuesday at the rostrum with his wife, Mary Kay. The scholarship is named after their son, a Youngstown police officer killed in the line of duty in April 2003.
By Sean Barron
YOUNGSTOWN
Bill Magnuson is diligently working toward fulfilling his career goal, the foundation of which was laid when he was a child.
"My whole family is either military or in law enforcement, so I knew I would do one or the other," the Youngstown State University criminal-justice major said during Thursday's annual Michael T. Hartzell Memorial Scholarship luncheon at the DeBartolo Stadium Club in YSU's Stambaugh Stadium.
Magnuson, of Canfield, was one of 12 YSU students who received scholarships named in honor of Hartzell, a Youngstown police officer who was shot to death in the line of duty April 29, 2003, at age 26. In 2004, Hartzell's parents, Howard and Mary Kay Hartzell, created the scholarship in memory of their son.
Most of the funds raised for the program come from the annual Michael T. Hartzell charity golf outing at Knoll Run Golf Course, off state Route 616 in Coitsville, said Bill Leskovec, treasurer.
The golf gathering on July 29 raised about $28,000, Leskovec noted.
Eligible recipients must have a parent in law enforcement in Mahoning, Trumbull or Columbiana counties or be Austintown Fitch High School graduates intending to enter YSU's criminal-justice field, he added.
Magnuson said he knew he wanted to work in law enforcement since age 3 or 4. Short- and long-term goals include working as an officer for the Canfield Police Department and for the FBI's anti-terrorism unit, respectively, noted Magnuson, whose father, the late Bob Magnuson, was Canfield's assistant police chief.
Working in law enforcement also seemed to be in the cards at a young age for Simone Gant of Boardman, a YSU freshman and nursing major.
"My dad always told stories about what's happened in the prison," said Gant, referring to her father's 18-year career at the Trumbull Correctional Institution in Leavittsburg.
Gant, a 2012 Canfield High School graduate who hopes to work as a psychologist to help young offenders, recalled having gone with her father, Donald Gant, to TCI during a Take Your Kid to Work Day event at the facility when she was about 10.
The special day led to a greater understanding of her father's career and planted the seeds for a deeper interest in law enforcement, explained Gant, who also works part time at the YMCA in Youngstown.
Christopher Kenney of Girard takes pleasure in analyzing and adding critical-thinking abilities to many common and not-so-ordinary situations, so perhaps a career as a psychologist is a natural fit.
"I enjoy seeing people react to situations and having a healthy resolution to their problems," said Kenney, whose father, Ed Kenney, is an officer for the Youngstown Police Department and a former Mahoning County deputy sheriff.
Also making the scholarships possible is a $280,000 endowment fund, noted Lorrie Durkin, director of stewardship for the YSU Foundation.
During the luncheon, the Hartzells and YSU President Cynthia E. Anderson thanked the community, the university and those who participate in the yearly golf outing for their support.