Valley nursing home displaces 14 as Medicaid reimbursements fall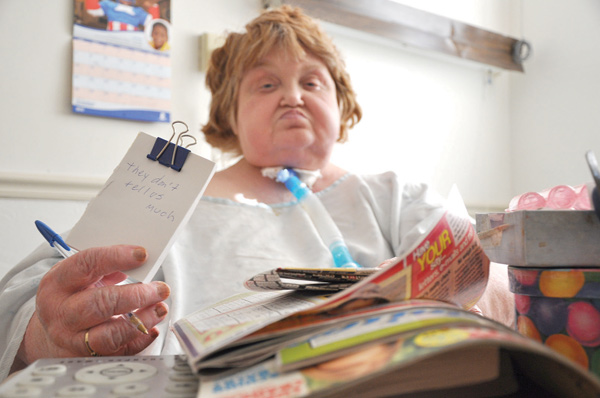 ---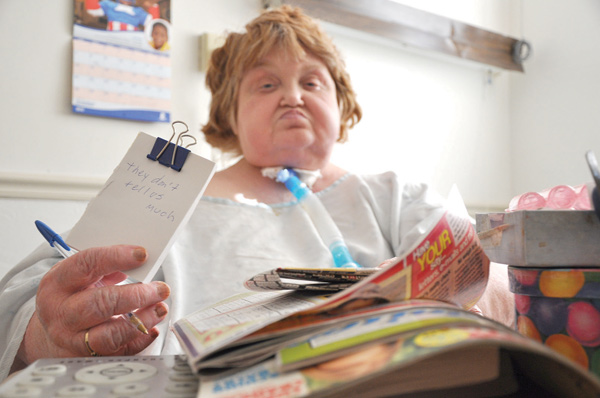 Photo
MaryAnn Steerman holds a note expressing her frustration at the news that Valley Renaissance Healthcare Center is discharging her and 13 others because the respiratory-care unit is being closed, a move that is happening more often because of Medicaid and Medicare reimbursement cuts.
TheNewsOutlet.org
BOARDMAN
Fourteen residents will have to find a new place to live by next Friday because Valley Renaissance Healthcare Center, a nursing facility on South Avenue, is planning to end its respiratory-care program.
The move is part of a growing trend in which nursing homes eliminate services for high-risk patients who require high-cost treatment, especially in light of cuts in Medicaid and Medicare reimbursements.
Most of the affected residents rely on a ventilator to breathe. Several cannot talk or must plug the tracheotomy tube protruding from their neck with a finger to speak.
Their treatment can be costly, experts say.
Gene Gantt is a respiratory therapist with 30 years' experience and the chairman of the long-term care section of the American Association for Respiratory Care. He said facilities discontinue high-risk services such as respiratory care when Medicaid reimbursement rates fail to cover costs.
Medicaid in Ohio underwent cuts in 1999 and 2011.
"We had seen a trend of [respiratory-care programs] closing down after 1998, when reimbursement changed, and then there was a surge between 2009 and 2011, and now we're starting to see some of the units closing in states where reimbursement is lower than the cost of care for these patients," Gantt said.
Mike Fishel, 45, a Valley Renaissance resident who is being displaced, has fallen prey to this trend for the third time. Originally from Summit County, he had to move from Little Forrest Rehabilitation Medical Center (now University Park Nursing and Rehab) in Akron and The Arbors at Canton (now The Laurels at Canton) because those facilities also closed their respiratory programs.
He and resident Doris Floyd have appealed their discharge. Hearings were conducted Monday at Valley Renaissance, where an arbitrator appointed by the Ohio Department of Health will weigh arguments from administration and affected patients.
The hearing officer should have a decision within five days, but Fishel shudders at the possibility of having to move to another facility yet again.
"Most of the people in here, they can't articulate for themselves. It's screwed up. But they have no say over anything. They have no power over anything," Fishel said.
MaryAnn Steerman, president of the facility's resident council, already has begun to pack. She has lived at Valley Renaissance for three years. Her respiratory illness renders her incapable of talking. But it isn't her inability to speak that hinders communication with administration.
"They don't tell us much," she writes on a tablet.
Steerman chose not to appeal and to move to Canal Pointe in Akron.
"Other ventilator units have closed in the area. But this is the first one where we've seen — at least that we've been informed [of] — that there are more than a dozen people involved at one time," said John Saulitis, who, as an Ohio Department of Aging ombudsman, advocates for long-term care residents in Mahoning, Trumbull, Ashtabula and Columbiana counties.
He had urged Valley Renaissance residents to appeal the "eviction notice" because under state law residents can only be involuntarily discharged if they are a danger to others, have not paid their bills or if they are well enough to return home.
"Usually it's a dollar-and-cents kind of issue," said Daniel Van Dussen, director of gerontology at Youngstown State University.
Van Dussen said Medicaid reimbursement rates play a major role in outsourcing high-cost treatments such as respiratory care.
Over the past year, Medicaid reimbursements for Ohio's 958 nursing homes have been cut by 5.8 percent, which is expected to save taxpayers $360 million over two years.
The cuts were made in an attempt to promote quality care by returning some of those funds only if quality measurements were met, according to the governor's Office of Health Transformation.
Medicare and Medicaid use a formula, which includes levels of patient care, local tax rates and quality measures, to determine how much each facility will be reimbursed per day.
Therefore, cuts at Valley Renaissance resulted in a 6.66 percent decrease in per diem Medicaid funding. So, while the facility received $160 per patient per day in 2011, it gets only $152 per patient per day in 2012.
This year, the average statewide daily reimbursement rate for nursing homes is $167, a number Gantt said is too low.
He said when Medicaid reimbursement rates dip below $500 a day, costs begin to exceed revenue, and nursing homes are forced to decide whether to continue costly services such as respiratory care.
Michael Rescineto, the administrator of Valley Renaissance, in a faxed statement, discussed the difficulty in making such a decision.
"As the individual who started the respiratory program 11 years ago here at Valley Renaissance Healthcare Center, it was an extremely tough decision for me to make to discontinue this service. ... At no point will a resident be left without a place to go."
What's happening to the residents of Valley Renaissance happened to the residents of Heather Hill nursing home in Chardon more than a decade ago when respiratory care was cut.
In that case, Cleveland attorney Janet Lowder represented a 15-year-old resident, who enrolled in Heather Hill's ventilator program after being struck by a vehicle. Another patient was struck with polio as a child and required ventilator care to breathe.
Lowder, a certified elder law attorney through the National Elder Law Foundation, worked the case pro bono. She filed an injunction to keep the residents in the facility. The case was settled before the appeal hearing, but as Lowder built a defense for her argument, her notes suggested that Heather Hill's rationale for closing the respiratory-care program was financially driven.
"Ventilator care is unique in that it requires such specialized care, and it is a costly program to run," Lowder said. "Long-term care facilities are not required to offer this type of program. It doesn't hurt their license if they don't have a ventilator program."
Rescineto and Provider Services Inc., which owns Valley Renaissance, did not comment directly about why the Boardman facility discontinued the unit.
The discharge notice did give residents three possible locations — Caprice Healthcare in North Lima, Beachwood Pointe near Cleveland, and Canal Pointe in Akron. The latter two are part of the Provider Services family, which also owns more than 100 other facilities across Ohio, according to the company's website.
Other facilities that offer respirator care include Andover Village Retirement Community, Andover, in Ashtabula County; Autumn Hills Care Center, Niles, in Trumbull County; and Calcutta Health Care Center, Calcutta, in Columbiana County.
TheNewsOutlet.org is a collaborative effort among the Youngstown State University journalism program, Kent State University, The University of Akron and professional media outlets including, WYSU-FM Radio, The Vindicator, and The Beacon Journal and Rubber City Radio, both of Akron.