Canfield speech and debate wins first event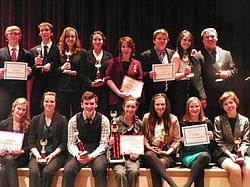 Photo
Neighbors | Submitted.The Canfield speech and debate team placed first in over-all sweeps at their first tournament of the year. Canfield had a team record of 36 competitors win trophies at the tournament.
The Canfield speech and debate team began its regular season by winning the Team Sweepstakes competition at the South Range Greenford Ruritan tournament on Oct. 27.
The top six schools in Team Sweepstakes were Canfield (89 points), Howland (81), Poland Seminary (59), South Range (50), Ursuline (29) and Warren JFK (28).
The Canfield team also placed a new record of 36 students at the tournament. Placing competitors were for oratorical interpretation were Megan Factor (second), Mia Battaglia (fifth), and Madeleine Gebacz (sixth); for original oratory was Katelyn Baltes (second), and for humor were Dominique Favre (second), Lennon Sackela (fourth), and Chris Halley (sixth).
Placers for drama were Nathan Pecchia (first), Lydia Scheel (third) and Vivienne Favre (fourth). For the United States Extemporaneous category were Mike Sorice (second), Isaac Bowald (third), Arjun Subramanyam (fourth) and Maria Kenner (sixth).
In the international extemporaneous category Cooper Johnson was third, Cameron Maras took fourth, Richie Abel was fifth and Alec Kan finished sixth. Rachel Nagy was third in prose and poetry were, while the team of Matt Myers and Kailey Love won the Duo category.
In Impromptu, Daniel Yozwiak was second and Angela Pupino took fourth. In Lincoln-Douglas debate, second, third, and fourth places, respectively, went to Alyssa Kerensky, Andrik Massaro, and Sara Lytle. In public forum debate, second, third, fourth, and fifth places, respectively, went to the teams of Will Brown and Billy Quirk, Maleck Saleh and Stephen Gant, Julie Gemmel and Rayann Atway, and Kevin Min and Kareem Soliman In student congress, placers were Sam Ranttila (third) and Shayne Georgeoff (fourth).