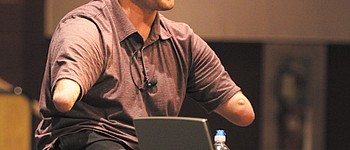 Congenital amputee gives Valley students lesson in motivation
Congenital amputee gives Valley students a lesson in motivation
Published: 11/8/12 @ 12:10
CANFIELD
Kyle Maynard has accomplished a lot in 26 years.
He won an ESPY award for his athletic achievements in wrestling and weightlifting. He climbed to the summit of Mount Kilimanjaro, the highest peak in Africa. He wrote "No Excuses," a book that landed on the New York Times best-seller list. He is a successful motivational speaker.
He also was born with congenital amputation and has arms that end at the elbows and legs that end near the knees.
And his message to students Wednesday was simple: There aren't any good excuses.
Maynard spoke at South Range and Salem schools, but his audience also included students from Leetonia, Crestview, Jackson- Milton and East Palestine.
"There aren't any good excuses. ... Yet we all make excuses, including me," Maynard said.
He spoke about how his parents fostered his independence, which helped him become the person he is today. He drives, lives by himself in a three-story townhouse and types 50 words per minute.
Still, Maynard said he struggles like everyone else. When he was 10 years old, his family moved from Indiana to Georgia.
"I felt alone and isolated," Maynard said. "... I was ready to just hang it up."
The key, he said, was finding a purpose. Sports also provided an outlet.
"The main human responsibility is to find and connect to a sense of purpose," Maynard said.
South Range eighth-grader Jonathan Meals said Maynard showed a lot of courage.
Jonathan said the most meaningful part of Maynard's presentation was the description of him bear-crawling 19,340 feet earlier this year to the top of Mount Kilimanjaro while carrying the ashes of an American soldier. Maynard had promised the soldier's mother he would scatter the ashes at the summit.
"He was talking about the purpose to bury the soldier. I don't think [Maynard] could have done it without him," Jonathan said.
Leetonia school-board member Kurt Jennings organized the event and called Maynard "a phenomenal speaker," whom children see "as an inspiration."
South Range eighth-grader Zoey Novak said Maynard "was probably one of the best speakers I've seen. He wasn't too serious, but he did get his message across."
Maynard said everyone has some kind of disability, whether its physical or emotional or psychological.
"Know your limits, but never stop trying to break them," he said.
Don't Miss a Story
Sign up for our newsletter to receive daily news directly in your inbox.