Remarkable turnaround | Liberty happy to still be practicing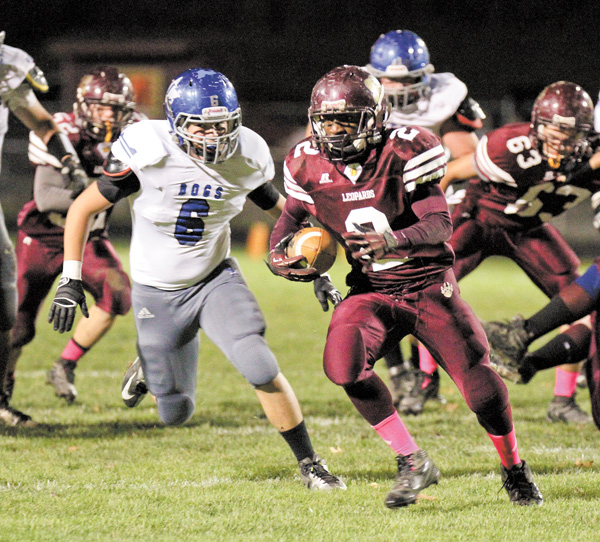 Photo
Three months ago, Sherron Walls (2) and his Liberty teammates had a new coach and were on an 18-game losing streak. Nobody was thinking about freezing through practice in the second round of playoffs. After winning their first playoff game since 2005 last weekend, the Leopards' rags-to-riches story continues with a meeting with state champs Creston Norwayne in the Division IV, Region 13 regional semifinal at Uniontown Lake High School.
By Joe Scalzo
GIRARD
Liberty senior Sherron Walls stands just 5-foot-7 and he's gone from being 160 pounds of muscle in August to 160 pounds of lumps in November.
Carrying the ball 292 times will do that. It's the second-highest number in the tri-county area this season — only Niles QB Stefan Yuhas, with 337, has more — and when Walls was asked if his body feels like it did in August, he laughed and said, "Nooooo."
Three months ago, the Leopards had a new coach and an 18-game losing streak. Nobody was thinking about freezing through practice in the second round of the playoffs.
And nobody's complaining about it now.
"When I got hired, I was just concerned about making sure we got our system in and got it in correctly," said first-year coach Brian Jones, who took over for Jeff Whittaker. "We changed pretty much everything defensively and did a lot of things different offensively, so there's always a learning curve.
"I knew a win or two early in the season would go a long way as far as confidence."
Liberty (9-2) won its opener, lost its second game and then ran off seven straight victories to capture the conference title and earn a playoff berth. Last weekend, the Leopards defeated Streetsboro for their first playoff win since 2005.
The rags-to-riches story has provided some positive press for a school district that can use some.
"Anything right now that's positive around the district is a good thing for everybody involved," said Jones, whose team practiced at Girard's Arrowhead Stadium on Wednesday to get used to playing on turf. "We've gotten a good response from the community as well as school representatives and teachers and staff alike.
"We're happy to be the focal point in the media for a positive reason."
Good headlines, pep rallies and bigger crowds provide a boost to this year's team, obviously, but Jones is excited about the trickle-down effect on the lower levels.
"I know kids that are going to be seniors next year that want to come out for us and that's great, but it's going to do more than just help the high school team," Jones said. "Kids in middle school and kids in grade school see the success and they want to be a part of that, too.
"It'll be great for our future, too."
The immediate future is a bigger challenge. Friday's opponent, Creston Norwayne, has won 17 straight dating to last year's state championship season.
The Bobcats are outscoring opponents 52-8 thanks to a potent passing attack — Jones raved about Norwayne quarterback Joe Dreher — and defense that is averaging one missed assignment per month.
"The biggest thing we have to do, first of all, is execute our game plan," said Walls, who has rushed for 1,800 yards this season, including 321 last week. "And we have to shut down their passing game. If we control their passing game, we'll be all right."
Sounds simple, but Walls knows what's ahead. When asked if any opponent reminds him of Norwayne, he paused for five seconds, then said, "Mmmmm. Nah. Can't compare nobody to the state champs, really. So that's why it's going to be a joy ride."
He should know. He's already on one.