DANCE BY DESIGN at Chaney Visual and Performing Arts School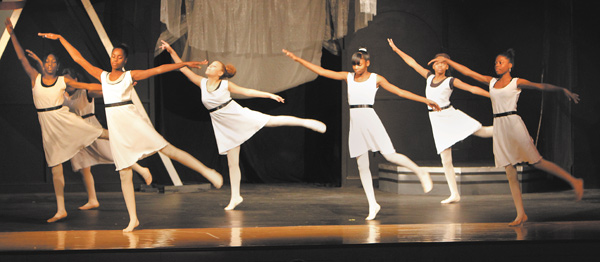 Photo
Intermediate ballet students in the Visual and Performing Arts program at Chaney perform to music from "Star Wars" on Wednesday afternoon during Dance by Design.
By Denise Dick
Youngstown
Math and science don't usually come to mind when considering the elements of dance, but a production by Chaney Visual and Performing Arts School students demonstrates how art, math and science mesh.
Dance By Design, performed for the Chaney student body Wednesday afternoon and the general public that evening, involves 80 students from sixth through 12 grade.
Sixth-grader Paris Blount, 11, who performed with her Intro-to-Ballet class, learned about fractions through dance, using the values of music notes to memorize choreography.
"Whole notes are four counts, half-notes equal two counts, and quarter notes are one count," Paris explained.
Ninth-grader Ayasha Gordon, 14, said math comes into ballet in the angle of a pose.
"To have a proper angle at my ankle, it would have to be a 45-degree angle," Ayasha said.
Torque, a physics concept, is the amount of force needed to rotate an object.
"You need torque to turn," Ayasha said of her turning while dancing. "Without torque — nothing."
Tracy Schuler-Vivo, VPA coordinator at Chaney, said each of the dances presented by the students was choreographed by the school's dance instructors. Students began working on the production about eight weeks ago.
"We always incorporate the core subjects in all of VPA, particularly in dance," she said.
If students are reading "Romeo and Juliet" in English/language arts, for example, they could act out the play in dance, Schuler-Vivo said.
The performance, which takes place Friday for younger students in the city school district, includes ballet, jazz and modern-dance numbers from all grade levels. The school's theater technical students created the show's set, and commercial art students designed the posters and programs promoting it.
Ayasha started dancing in fifth grade and lists ballet, jazz, modern, Caribbean and Africa as types of dancing she enjoys.
"I knew when I was 2 that I wanted to be a dancer," she said.
Paris just started dancing when she was accepted into Chaney VPA this school year. Wednesday marked her first performance for an audience.
Learning about the more academic applications of dance makes Ayasha think a little differently when she's listening to music.
"If it's something I want to just listen to, I don't really think about it, but if it's a song I want to dance to, I'd probably take it and break it down for the steps," she said.