Valley turns out in force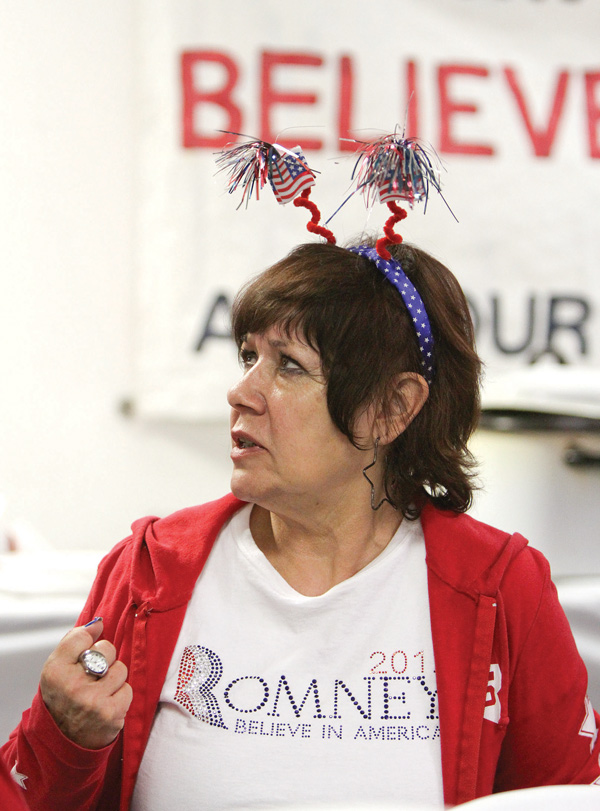 Photo
Republican campaign worker Marilyn Droney of Youngstown waits for results at Mahoning County GOP headquarters in Boardman, as results turned in President Barack Obama's favor for a second term, defeating Republican Mitt Romney in Ohio and other key states.
YOUNGSTOWN
Mahoning and Trumbull counties came out strong for President Barack Obama on his way to an 100,000-vote victory in the all-important state of Ohio, ensuring him another four years in the White House.
With 96.46 percent of the vote in Ohio, Obama was winning by 2 percentage points.
Obama easily defeated Republican Mitt Romney in Mahoning County, 63.02 percent to 35.42 percent. Obama's margin of victory was about 32,000 votes in Mahoning County.
In 2008, Obama received 62.2 percent of the vote, beating Republican John McCain by 34,000 votes in that general election.
"We did it," said an elated-but-tired David Betras, Mahoning County Democratic Party chairman. "God, that was a lot of hard work, but the percentage was better than it was in 2008. It was a big night for Democrats in Mahoning County and for the people of America."
Romney's failure to win Ohio was largely due to his position on the auto bailout backed by Obama, Betras said.
"He bet against American workers and no one wins that way," he said.
But Mahoning County Republican Party Chairman Mark Munroe said Romney lost because of "half-truths and outright lies. Mitt Romney is one of the most decent, humble guys you'd want to meet."
Turnout in Mahoning County was exactly 70 percent during this election compared to 72.31 percent in 2008.
"I'm happy with the number; we put the president over the top," Betras said.
Obama's margin of victory in Mahoning was the fifth largest among all 88 counties in the state. The only other counties with greater margins of victories for Obama were Cuyahoga, Franklin, Lucas and Summit.
Romney also did well in Trumbull County. He had the sixth largest margin of victory in Trumbull among the state's counties.
Obama received 60.08 percent of the vote compared to 37.95 percent for Romney in Trumbull. The Democrat beat Romney by 22,000 votes. Obama got 60 percent of the vote in 2008, beating McCain by 24,000 votes.
Unofficial turnout in the presidential race in Trumbull County was 65.3 percent. Turnout in 2008 was 72.65 percent.
As it did in 2008, Obama lost Columbiana County, but it was a little worse for him this time.
In 2008, Obama lost by about 4,000 votes. In this election, he lost Columbiana County by about 5,000 votes.
He received 42.79 percent of the vote in this election compared to 54.79 percent in 2008 against McCain.
Turnout in Columbiana County was 68.58 percent in this election compared to 70.31 percent in 2008.
"It was a close race statewide," said Columbiana County Republican Chairman Dave Johnson. "Romney got pummeled at first and he didn't defend himself. Once people labeled him as outsourcing jobs, a rich guy who was going to give tax breaks to the wealthy, he couldn't overcome it sufficiently."
As for the next four years, Johnson said we'll continue to have a "divided Congress and a very, very divided country. Maybe that will prevent [Obama] from doing too much mischief. We've got serious problems. I won't dwell on it. We have to move on. It's been a long race, but we have to move on."
Betras expects Obama to continue to move the country in the right direction and down the road of economic recovery.