Published: Wed, November 7, 2012 @ 12:00 a.m.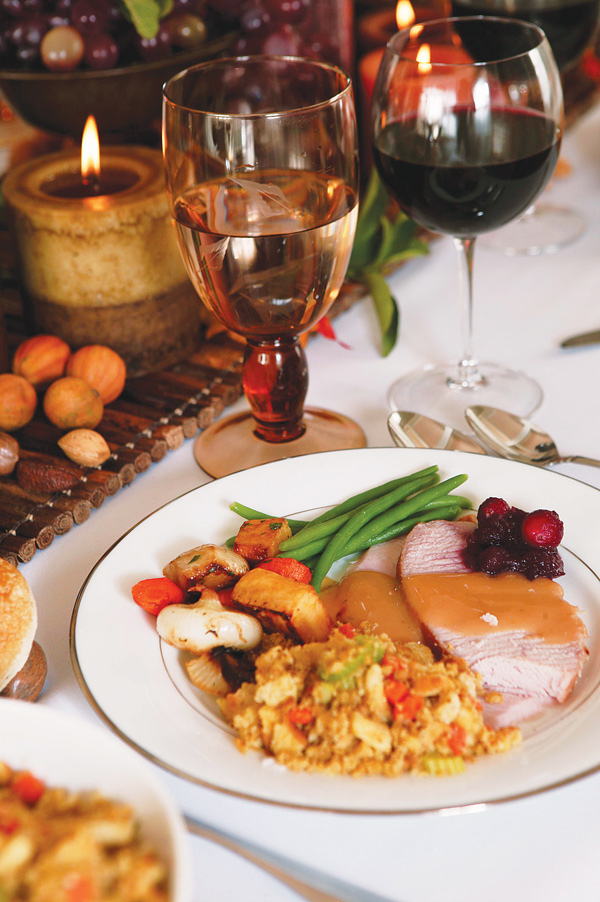 Photo
When choosing a wine to pair with poultry, a mellow Pinot Noir or Merlot is the way to go. Also, turkey goes great with a sweet Riesling.
Holiday Wine Picks:
WHITE
Sebastiani Chardonnay (CA, USA) $13
Brancott Sauvignon Blanc (NZ) $11
San Simone Pinot Grigio (ITA) $13
Leonard Kreusch Saphire Riesling (GER) $11
RED
Villa Sorono Pinot Noir (ITA) $11
Raymond "R" Collection Merlot (CA, USA) $13
Ridge Three Valley's Zinfandel (CA, USA) $22
Yalumba Y Series Shiraz (AUS) $14
Chateau St. Jean Sonoma Cabernet (CA, USA) $18
We all cherish the great holiday meals family and friends share each year at this time.
We often find loved ones gathered around magnificent tables of food and wonder, "What could be better?"
In fact, serving the perfect wine to go with what's on your table can make that celebration all the more magical.
The key is to know which food and which wines work well together and which to avoid.
General Guidelines
Keep it simple.
Cuisine like seafood and poultry will taste much better with lighter, crisp whites and mellow, fruity reds.
Those serving beef and ham may go for something a little bigger and bolder.
Ham probably has the most flexibility in terms of the potential types of wine it can be paired with, just don't select a wine that's too light (you won't taste the wine) or too bold (you won't taste the food).
Beef demands a wine that will stand up to and complement it.
Cabernet, Zinfandel and Shiraz are solid choices with red meats.
If you are serving:
Seafood
Stick with whites for the most part. Chardonnay, Pinot Grigio and Sauvignon Blanc work well. A light and mellow Pinot Noir might work if you are serving Salmon or other bolder fish. Riesling can work, but be sure to select one with a lower residual sugar so the sweetness doesn't completely overwhelm the flavor of your food.
Poultry
We all likely will enjoy some turkey this season. You can do both red and white with the big bird, but choose the reds carefully. A more mellow selection like Pinot Noir or Merlot will pair better than a bolder selection. Riesling is a great selection with turkey, and you can go with many different levels of sweetness without compromising the succulent flavor of the bird.
Ham and other Pork
Merlot and merlot-based blends are excellent choices here. Pinot Noir can balance nicely with ham, but make sure it has enough boldness to hold its own with the food. California and French Syrah likely will work OK, just be sure they're not too peppery and tannic. You can do some of the richer, more oaky Chardonnays with a ham. If you go down that road, look for ones that are aged at least nine months in oak barrels.
Beef
Lovers of the bolder reds rejoice! Here is where your wines are best served. California Cabernet and Zinfandel, Australian Shiraz, Argentinian Malbec, and Bordeaux blends all will mingle well with a steak or other red meats. Stay away from whites all together and avoid most sweet wines with beef. A merlot can work, but make sure it's bolder or is blended with one or more other grapes.
Finally, it is important to keep in mind that these are guidelines. We all have individual tastes and know our guests' favorites. In the end, the goal is to select wines to complement the food and be enjoyed by the people at your table.
Cheers and bon appetite!
Contact Brian at brian.fry@myvalleyvino.com or by visiting www.myvalleyvino.com