Grier goes into 'beast' mode for YCS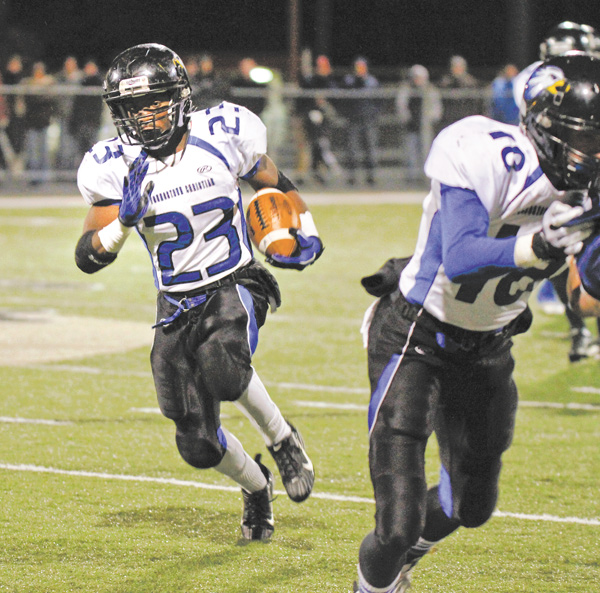 Photo
Youngstown Christian running back Ryan Grier (23) becomes an animal once he straps on his black Eagles helmet, fastens the chin strap and hits the field. Greir has racked up 14 rushing TDs and 1,315 rushing yards for Eagles, who face Malvern on Friday in the Division VI, Region 21 semifinal at Akron St. Vincent-St. Mary's Green Stadium.
YOUNGSTOWN
With his helmet off, Youngstown Christian's Ryan Grier is a soft-spoken kid with a broad face and a big smile.
Once he straps on his black Eagles helmet, fastens the chin strap and hits the field, Grier is an animal.
Fast like a cheetah, strong as an ox.
Or as he describes himself, "a beast." And it's hard to disagree.
Grier has 14 rushing touchdowns in his senior campaign and he earned two in last week's 20-14 win over Warren JFK with stiff arms inside the 5-yard line.
"When I see [the end zone] that close it's something that boosts up in me," he said.
"A beast comes through me or something," he added with a growl.
Yes, a growl. Then a laugh. Then a statement.
"It's all about rising up and making plays when my team needs me," Grier said.
And that's what it's all about for Grier and the Eagles — the team.
"We don't point fingers or call someone out," said wide receiver Darien Townsend. "We always try to come together."
It shows in a defense that gives up a little over 200 yards per game and limits opponents to under 16 points. The unit has recorded two shutouts.
With Grier's 1,315 rushing yards securing him as an offensive centerpiece, the Eagles are actually aided by versatility. Emmett Underwood is 90 of 159 on the year, throwing for 1,124 yards. He has 15 touchdown throws and eight have been in the hands of Townsend. Ryan Coyier and Nick Gonda are other inviting targets.
The Eagles have talent and ambition.
"We have to finish what we started last year," Grier said.
In 2011, YCS clinched its first playoff berth and advanced to the regional semifinals where it fell to Shadyside, 27-24.
"We're not satisfied going to the second round again," Townsend said. "We're playing to go to the championship."
It'll have to get past Malvern first.
The Hornets (10-1) are coming off a 21-0 win over Fairport Harding. The ground game is their specialty, averaging 266.6 yards per game. Junior Cobin Plessinger (1,570 rushing yards) and senior Brady Webb (611 yards) are the main carriers, but six players receive playing time in the backfield.
Last year, Western Reserve held off Malvern, 29-20, in the second-round. But in Week 2 of this season, the Hornets stung the Blue Devils, 20-3.
Trey Tucci, Malvern junior QB and son of head coach, Dave, completed just 4 of 11 passes for 34 yards.
"We're prepared for anything," Grier said. "[JFK] gave us a great game and we needed something like this."
Like Townsend said, though, the aspirations go beyond one game. Actually, they go beyond one season.
"We can do it like Ursuline and Mooney," Grier said. "We work just as hard as them even though we're a small school. They've made their history over the years and what we're doing right now is building a history at Youngstown Christian."
Another chance comes Friday at Akron St. Vincent-St. Mary's Green Street Stadium.