Brown holds on to Senate seat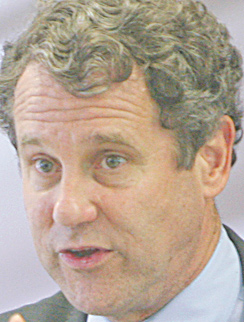 Photo
YOUNGSTOWN
U.S. Sen. Sherrod Brown fended off a challenge from Republican Josh Mandel to win a second six-year term with strong support for the Democratic incumbent in Mahoning and Trumbull counties.
U.S. Rep. Tim Ryan, a Democrat from Niles, was the runaway winner in the new 13th Congressional District.
Also, U.S. Rep. Bill Johnson, a Republican from Marietta, was on his way to victory after midnight today, leading Democrat Charlie Wilson by seven percentage points, or 18,899 votes, in the 18-county 6th District.
Only results from Jefferson County had not been counted.
"We're just very excited that my message of smaller government, less government regulations and less government involvement in our lives resonated with my constituents," Johnson said. "We'll be busy [today] fighting to bring jobs to the district, repealing Obamacare and bringing America back from the fiscal cliff."
Johnson defeated Wilson of St. Clairsville in 2010 by 5.04 percent when the Democrat was a two-term incumbent congressman.
Despite what seems like a hopeless situation, the Wilson campaign refused to acknowledge defeat with voters who cast ballots Tuesday in Jefferson County not counted by that board of election well past midnight.
"The race currently is too close to call," said J.R. Starrett, Wilson's campaign manager. "With Jefferson County yet to report a single vote cast on Election Day, the race at this time is just too close to call. Jefferson County represents the second-largest county of the 18-county congressional district. The county, by some estimates, could account for nearly 15 percent of the total votes cast districtwide.
In the 2010 race, Johnson beat Wilson by 730 votes in Jefferson County.
With 92 percent of the vote counted in the U.S. Senate race, Brown, a Democrat, was declared the winner. He led Mandel by 4.7 percent, about 235,000 votes, in the most expensive Senate race in the country.
The Democratic- dominated Mahoning and Trumbull counties went heavily to Brown, who received 66.12 percent of the Mahoning vote, and with 188 of 210 precincts in Trumbull counted, he received 62.5 percent of the vote.
In his acceptance speech, Brown said the race was about the resurgence in manufacturing, specifically mentioning the Chevrolet Cruze built at the Lordstown General Motors complex.
In Columbiana County, Mandel beat Brown by about 3.5 percentage points.
In the new 13th Congressional District, Ryan crushed Marisha Agana of Howland, beating her by more than 45 percent.
"I'm thrilled we have a lot of positive things going on in the Mahoning Valley and I'm excited to keep it going," Ryan said.
"There's a lot we have done and a lot of thing we can still do to grow this area."