Brookfield's Mosora versatile weapon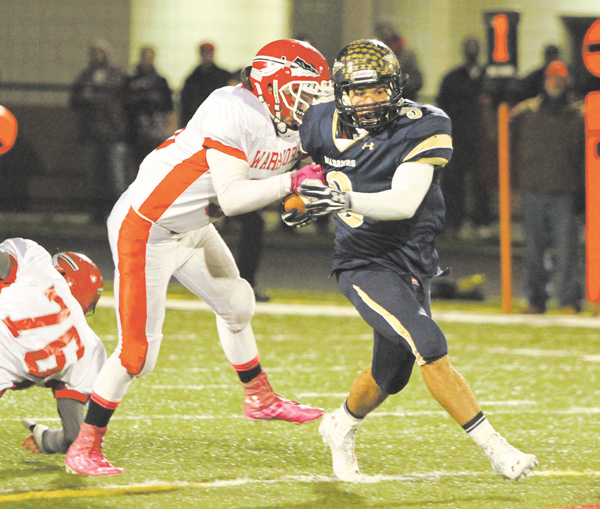 ---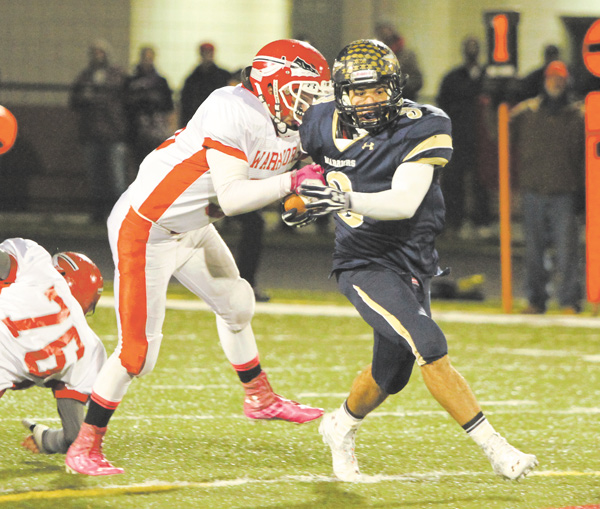 Photo
Brookfield's Ryan Mosora (3) tries to break away from Edgewood defender Anthony Monda during the first quarter of the Division IV, Region 13 quarterfi nal at Arrowhead Stadium in Girard. Mosora has scored 156 points for the Warriors, who are preparing for the next round of playoff s this Friday against Akron Manchester.
By JOHN BASSETTI
bassetti@vndy.com
BROOKFIELD
Ryan Mosora is your typical student, one governed by the 3 Rs.
If you thought reading, 'ritin' and 'rithmetic, think again.
How about rushing, receiving and returns?
As Brookfield's tailback, the 5-11, 195 senior has been sharpening his pencil for another playoff game, this one against Akron Manchester (8-3) at Tiger Stadium in Twinsburg.
Mosora has scored 156 points, including three touchdowns as a receiver and three on kick returns.
Like others in the current crop of unbeaten Warriors (11-0), Mosora sees the Panthers as a team that is good at ball control, regardless of its form of attack.
"They like to come out trying to mix the run and pass 50-50," Mosora said, "but it looks like they like to throw the ball quite a bit, too, so our defensive backs will have to play well and we'll have to get pressure on the quarterback."
Brookfield and Manchester have something in common: they both held their first-round playoff opponents to 14 points, with Brookfield eliminating Ashtabula Edgewood last Friday, 38-14, while Manchester beat Gates Mills Hawken, 21-14.
Now that Brookfield (11-0) has had a taste of one playoff win, the Warriors are taking a hard stand against anything in their way to a state championship similar to the one Brookfield had as 1978 state Class AA champs.
Still, there's concern.
"We can't take anything for granted," Mosora said of Manchester.
Mosora had a four rushing-touchdown night last Friday a few weeks after another four-touchdown game — three rushing and one receiving — in a regular-season 49-13 win over Edgewood in Week 7.
Out of the I-formation, Mosora gained 190 yards on 30 attempts with many via the 17 Power play behind tackle Gary Hiner guard David Jamieson, fullback Joe Clark and Derek Sulick.
Quarterback Jeremy Quinlan is 75 of 124 for 1,027 yards in the air, while Collin Harkulich has 20 catches for 321 yards and six TDs.
In a secondary role as receiver, Mosora has 11 catches for 212 yards when put in motion out of the backfield. Three of those have been for touchdowns, two on flare passes and one on a go-route.
His kickoff return numbers are 12 for 362 yards.
Mosora has five interceptions as a cornerback on defense, although he plays only sparingly each game.
He might see more playing time against Manchester.
"I don't know yet, I might be in," he said. "I want to make a difference on defense this week. I want to be able to get in there and make some plays for us."
Mosora, who finished with 1,985 yards as a junior, said that his style is more perimeter-oriented, but added, "I like to go inside, too."
He said that Brookfield's offensive formation depends on the opponent, but, once a team's tendency is evident, the Warriors will either spread out or line up in an I-formation and run the ball.
"Manchester's line is good-sized, so we'll have to execute up front," Mosora said. "If we do what we know how to do, we should be fine."