Are playoffs possible for YSU?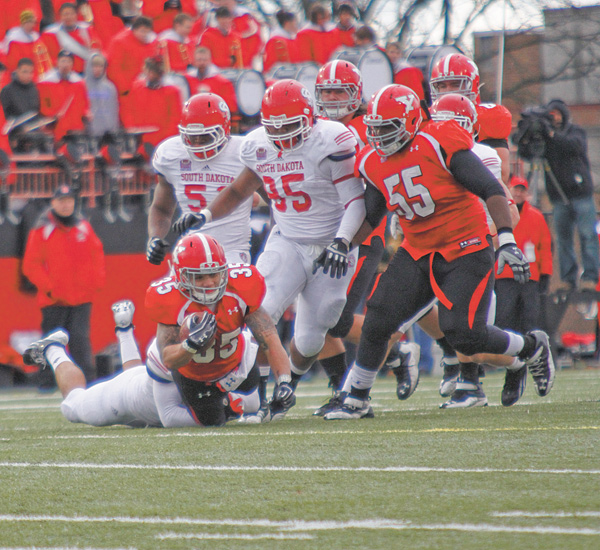 ---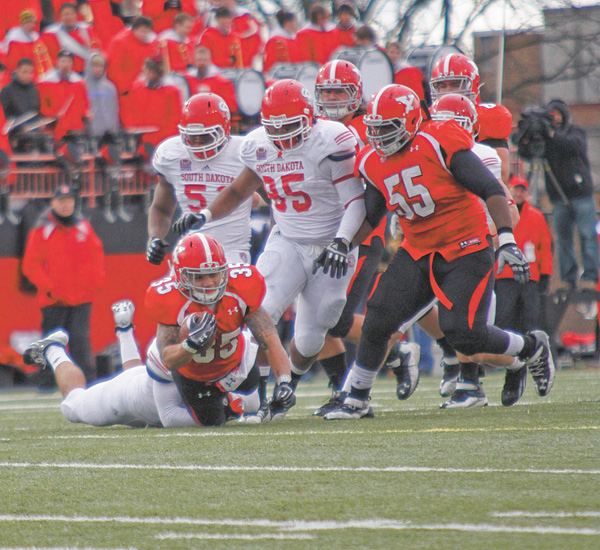 Photo
Youngstown State's senior guard Lamar Mady (55) watches as teammate Jamaine Cook finishes off a run during Saturday's win over South Dakota. Mady believes the Penguins have a good chance of making the playoff s if they finish 7-4.
YSU football needs to win out to have a chance
By Joe Scalzo
Youngstown
Now that Youngstown State is coming off a W, the P word is back.
The Penguins need two wins to become playoff-eligible, and while there's no guarantee that seven wins would be enough, they'd have a shot.
"That's a question that I don't know [the answer to]," YSU coach Eric Wolford said, when asked about his team's postseason chances. "I know that we need to take care of business this week and that's our only focus.
"I know media people like to talk about the past a lot and like to talk about the future. That's why you guys get paid the big bucks. But I get concerned about Tuesday's practice and I know that if we do what we're capable of, we can be in control of our own destiny. I'll leave it at that."
This weekend, the Penguins (5-4, 2-4) travel to play a Western Illinois team that has lost four straight and has been outscored 82-3 over the past two weeks.
A win sets up a possible playoff-eliminator with Indiana State on Nov. 17 at Stambaugh Stadium. The Sycamores (7-3, 5-2 Missouri Valley) lost to Illinois State last week, snapping a five-game winning streak that included this season's only win over North Dakota State. Indiana State, which has a bye this week, would almost certainly qualify with a victory over YSU.
If the Penguins won out, their season-opening win over Pitt could loom large with the playoff committee.
Since the FCS playoffs were expanded to 16 teams in 1986, 31 four-loss teams have made it to the postseason. In 2010, the first year with 20 playoff teams, three Missouri Valley teams advanced with 7-4 records.
When asked if he thought a 7-4 record would be enough, senior guard Lamar Mady said, "I think it is, but politics and statistics and all that kind of stuff come into play. We'll just have to see. We really put ourselves in a bind having to depend on other stuff. We'll do the best we can but I think 7-4 can get us in there."
Considering the conference's clout — the MVFC is dominating the Gridiron Power Index, a key playoff indicator — YSU could slip in as the league's fourth playoff team, joining North Dakota State, South Dakota State and Illinois State. YSU lost to all three teams, all on the road.
The MVFC has only had four teams qualify for the playoffs once, in 2003, but the Colonial Athletic Association (which ranks sixth in the GPI) has had four or more in each of the last five years.
"We all know what's at stake for us," said senior DT Aronde Stanton. "We know if we end up losing this game, our season will be over next week.
"Last year we had a chance if we had been 7-4 to get in, a good chance, so we're kind of holding our hats on that. But like I said, we got to take it week by week and focus on Western Illinois this week and when we get to next week, we'll focus on that and see if it falls into place for us."
Position change
Redshirt freshman QB Dante Nania tweeted that he will be moving to safety in the spring. ("Pretty excited," he wrote.) That means freshman Nick Wargo (who is redshirting this season) will be the third QB next year. Nania (6-0, 205) played linebacker in high school and was a standout wrestler.