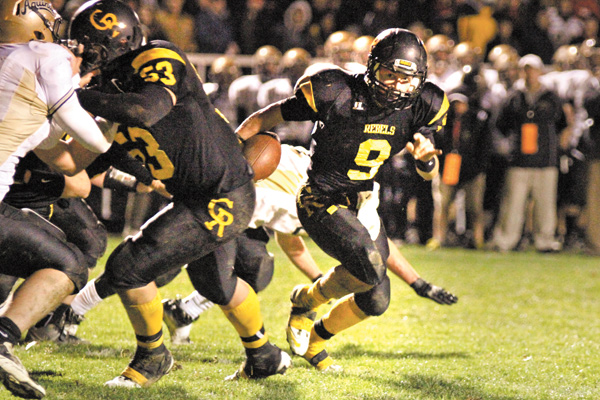 Photo
Crestview's Josh McDade (53) sets a block for Collin Gilbert (9) during Saturday's Region 17 matchup against St. Thomas Aquinas at Crestview High School.
By Tom Williams
COLUMBIANA
The Crestview High football team concluded the regular season with nine consecutive romps, winning four of them by more than 50 points.
So was fatigue a factor in the Rebels' playoff opener when they were outscored 36-27 by St. Thomas Aquinas in the second half.
Crestview head coach Paul Cusick doesn't think so.
"You know, I really wasn't worried about that," said Cusick after the Rebels' starters were forced to finish for the first time since Week One's 37-33 squeaker over Columbiana. "We've physically conditioned for it.
"I have a lot of faith — our guys have been in these type of games before," Cusick said of the 51-50 victory in the Division V Region 17 quarterfinal. "I expected them to respond and they did."
St. Thomas Aquinas (9-2) threw quite a scare into Crestview (11-0), which led 17-0 in the second quarter before the Knights turned the game into a track meet.
Josiah Moore returned a kickoff 89 yards, then scored on runs covering 76 and 60 yards as the Knights climbed back into the contest. He also had a 69-yard return while Bryan Wilkins scored on a 53-yard run.
The Rebels (11-0) also had big plays. Quarterback Collin Gilbert scored the first two touchdowns on runs covering 32 and 31 yards. Dimitri Gregory returned a kick 78 yards to the Aquinas 6.
Gregory, a linebacker, agreed that the St. Thomas comeback was an eye-opener.
"Going through the whole season and not getting [more than 33] points scored [on us] and then coming here and seeing 50 points on you, yeah, that's a little bit of a wake-up call," Gregory said.
"It was the little things on defense that gave them those big plays. If we buckle down this week and get those little things fixed, ignore the cold weather ..."
Linebacker Matt Hardenbrook sealed the victory for the Rebels right after Moore's 60-yard touchdown sliced the lead to 51-50. On the conversion play, Hardenbrook intercepted Anthony Moeglin.
"I saw the pick [coming], I read it," Hardenbrook said. "I just couldn't believe I had the ball in my hands. It took me a moment to soak it all in. This is amazing."
Next up is Kirtland (11-0), the defending state champions who have only played in one close game this season. Last year, Kirtland ousted Crestview, 35-7, in the regional final.
"That's a great opportunity — you get to play the defending state champion," Cusick said. "Right now, they are a measuring stick for all of us."
Hardenbrook expects a big test.
"It's the playoffs — you're always going to play the good teams here. I wouldn't have it any other way. If you want to be the best, you have to beat the best. [St. Thomas Aquinas] was a [heckuva] football team — I'm glad they gave us that game."