Obama rocks with Springsteen in Columbus, hoping for encore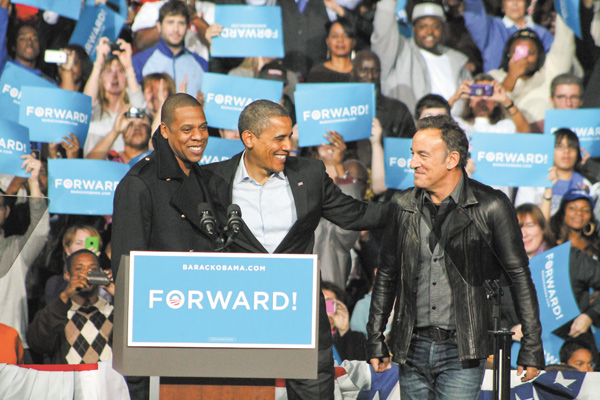 ---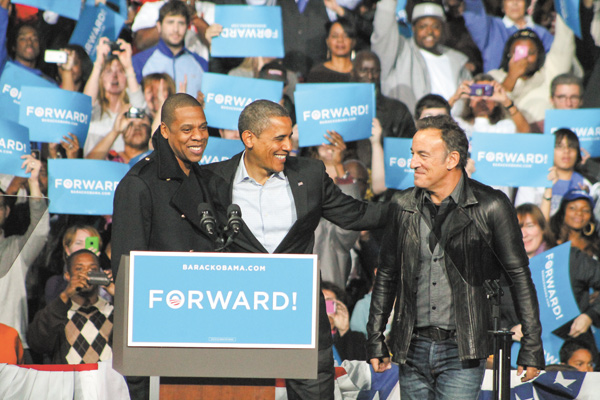 Photo
President Barack Obama is joined by musicians Jay-Z and Bruce Springsteen during an election eve rally Monday in Columbus. More than 15,000 people turned out for the event.
By Marc Kovac
COLUMBUS
Bruce Springsteen is pretty confident he knows the results of today's presidential election.
The popular singer and songwriter thinks it will be another four years for President Barack Obama.
"It's good we're all here; the election is tomorrow," Springsteen said. "But the election is sealed, all right."
More than 15,000 people turned out Monday for a concert rally featuring Springsteen and rapper Jay-Z, who performed several songs each and urged attendees to vote for the president and pound the pavement to ensure others do as well. Obama capped the afternoon event with a final Ohio telling of his standard stump speech before Election Day.
Monday's visit was Obama's 22nd visit to Ohio this year.
More than 1.6 million Ohioans already have cast ballots, according to the latest count by Republican Secretary of State Jon Husted.
The total does not include a count of those who took advantage of extra hours Saturday, Sunday and Monday, added after the Obama campaign sued to allow additional early voting.
And the polls are open today from 6:30 a.m. to 7:30 p.m. Voters will have to provide one of several types of identification, including a driver's license or government-issued ID, a copy of a current utility bill, a bank statement, paycheck or other government document that shows their name and address.
Results will be posted on the secretary of state's website (myohiovote.com), with absentee ballots counted shortly after the polls close.
As for Springsteen's prediction, he's a lot more confident than many pollsters, who say the race is "too close to call."
The University of Cincinnati's final Ohio Poll, released Monday, put Obama slightly ahead of Romney, 50 percent-48.5 percent, with the results within the margin of error.
Earlier in the day, U.S. Rep. Tim Ryan of Niles, D-17th, joined a group of local union leaders in a last-minute effort to motivate voters at the Obama campaign office in downtown Youngstown.
Ryan credited Obama and Democratic lawmakers for turning around the local economy. He cited Obama's policies as a major reason Lordstown, V&M Star, the National Additive Manufacturing Innovation Institute and area manufacturing have enjoyed success in recent years.
"You can walk out into our community and see what Obama has done with your own eyes," Ryan said. "When you look at our Valley today versus four years ago, it was the president's critical moves that made the local economy better."
Gary Steinbeck, subdistrict director for United Steel Workers, agreed and reminded those on hand that today's election will be "without a doubt the most important of our lifetime."
Steinbeck said a vote for Romney is a vote against the middle class.
David Green, United Autoworkers Local 1714 president, said Romney's stance against the auto bailout was reprehensible. He said Ohio's auto industry could ill-afford the candidate's proposals.
CONTRIBUTOR: Jameson Cocklin