Youngstown ceremony marks enduring wounds of Vietnam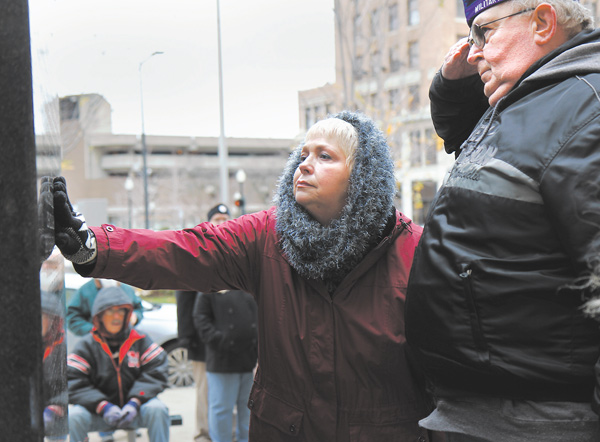 ---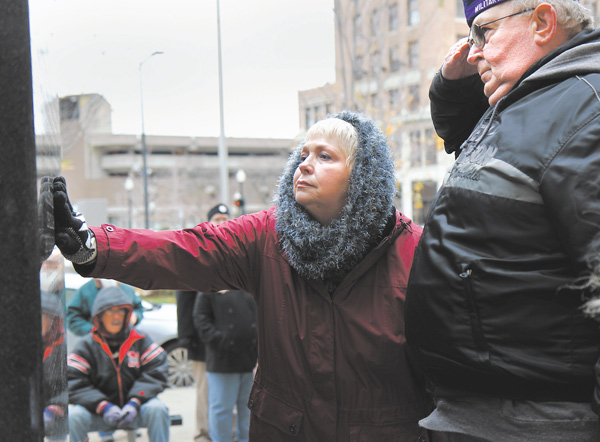 Photo
Community members honored their loved ones who sacrificed their lives to the Vietnam War at the 21st annual Laying of the Roses ceremony in downtown Youngstown on Sunday. Above, Kathy Rose and Clint Ray of Austintown honor their loved one, Charles Brown Jr., at the war memorial on Central Square.
By Sean Barron
YOUNGSTOWN
Steve Gondol fondly remembers spending time years ago at a West Side gas station near Mahoning and Portland avenues with John J. Kos and Francis L. Ware III, both of whom he had met in elementary school.
After high school, all three enlisted in the military and served in Vietnam, but Gondol was the only one who made it home alive.
"We did a lot together," recalled Gondol, a former Jackson Township trustee who was in the Army from July 1968 to April 1971. "We used to take care of our cars and wash them [at the gas station] until we were drafted." Gondol shared those and other memories of Kos and Ware, two of 100 Mahoning County soldiers killed in the Vietnam war and honored during Sunday's 21st annual Laying of the Roses ceremony next to the Vietnam War Memorial on Central Square.
The gathering was to honor those who made the ultimate sacrifice serving their country, said Gus Guzman, master of ceremonies and event coordinator.
American Legion Post 472, Vietnam Veterans of America Chapter 135 and the International Association of Workforce Professionals Youngstown chapter, along with Struthers-based AMVETS Post 44, hosted the solemn two-hour event.
Partly sunny skies accompanied by a brisk wind greeted attendees, who came to remember and honor the 100 fallen comrades, those who died from service-related illnesses and two who remain missing in action.
Gondol, who also helped build a Vietnam Veterans Memorial in North Jackson, befriended Ware and Kos when the three were students at Holy Name Elementary School on the West Side.
After graduating from Chaney High School and before being drafted, Kos was a steelworker while Ware attended Youngstown State University and worked at General Motors Corp.'s Lordstown assembly plant, noted Gondol, an Ursuline High School graduate.
"Both were real easygoing and a lot of fun. Johnny was always smiling and laughing," Gondol said, adding that for many years it was too painful to talk about the loss of his two friends, both of whom died in 1970 about a month apart.
Loved ones, fellow veterans and others paused, then placed one rose at the foot of the veterans memorial for each of the 100 names read. Some family members touched or kissed the names of their loved ones on the memorial.
Also remembered were Howard B. Carpenter and Donald M. Klemm, both of whom remain missing in action.
The event's keynote speaker was retired Lt. Col. Roderick Hosler, an Army veteran and YSU assistant professor of military science.
"For most Americans, the Vietnam war ended 37 years ago, but sadly for some, it has not ended," said Hosler, adding that the divisive war shaped and changed many people forever.
Hosler, who grew up in Missoula, Mont., and was commissioned in the Army in 1972, recalled inescapable daily images of the war. Four high-school friends were killed in the Vietnam war, said Hosler, who served about two years in Korea.
Hosler told his audience that it's imperative the U.S. government ensures soldiers are taken care of during and after their service, noting that many fellow Americans turned their backs on those who returned from Vietnam.
"The lives of soldiers are precious," he added.
The gathering also featured a Table of Remembrance set for one person, on which were a white tablecloth, a lemon, an upside-down glass, a rose and salt on a plate – all metaphoric for the pain of loss.
The cloth was symbolic of the purity of soldiers' intentions in responding to the call of duty; the rose stood for the blood shed as part of their sacrifices; and the lemon represented the bitter fate they faced, explained Ray Ornelas, a member of the local Veterans Service Commission.
In addition, the inverted glass called attention to the inability of missing soldiers to offer a toast with their families, and the salt was a metaphor for loved ones' tears upon learning the soldiers won't return, Ornelas continued.
In addition, the names of 27 comrades who died of service-connected illnesses were read.
The ceremony also included the playing of "Amazing Grace" and taps, as well as the posting and retiring of colors.