Emotions high in Steelers' win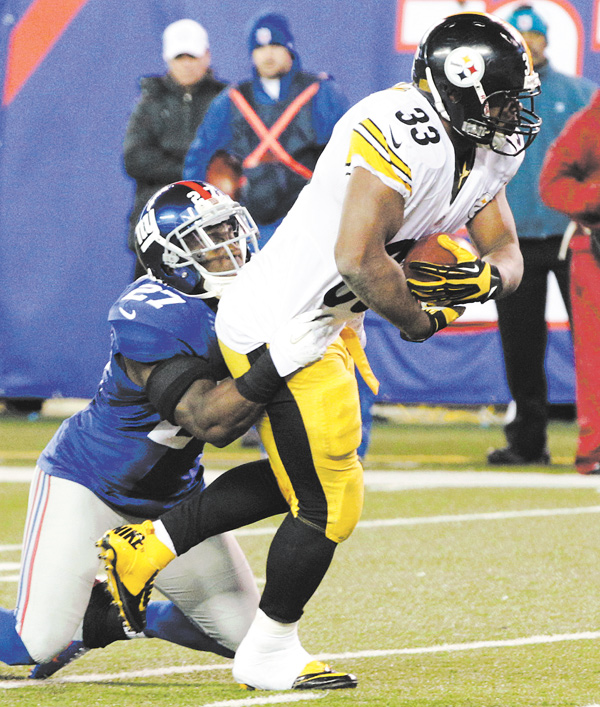 ---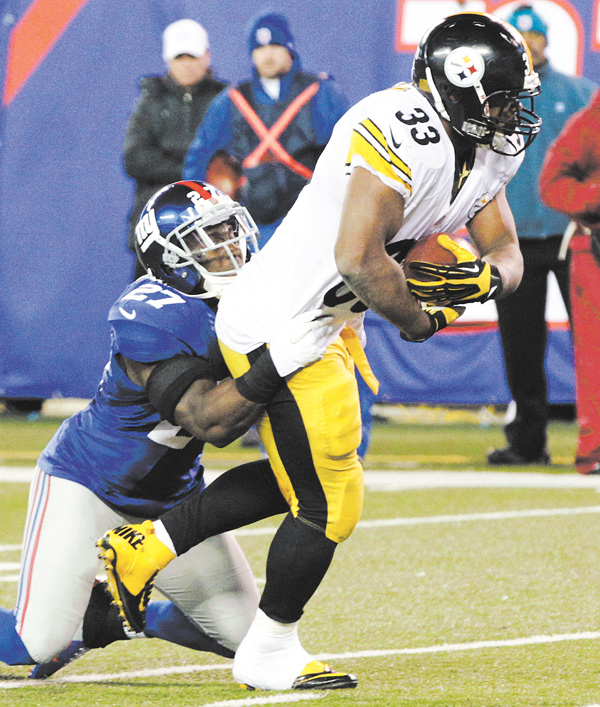 Photo
Steelers running back Isaac Redman (33) is tackled by Giants strong safety Stevie Brown (27) during Sunday's NFL game in East Rutherford, N.J. Redman rushed for 147 yards and scored the touchdown that gave Pittsburgh the 24-20 win over New York.
Pittsburgh hangs tough in comeback over the Giants
Associated Press
EAST RUTHERFORD, N.J.
Sometimes, real life intrudes on the games we play. And sometimes, we need those games to get away from real life.
In the wake of Superstorm Sandy and the destruction it brought to the Northeast, everyone on the Pittsburgh Steelers and New York Giants understood that.
"There are so many bigger things going on around here that what we do is not as important as real life," Steelers quarterback Ben Roethlisberger said Sunday after throwing for two touchdowns in a 24-20 comeback victory. "My thoughts and prayers go out to everyone else who are going through so much. There were so many emotions going on, I didn't know what to expect from it. But maybe we were able to take their minds off their problems just a little."
That's all the local fans sought: temporary relief and the Giants (6-3) provided it for a while. But they couldn't stop Isaac Redman, who had little relief with Pittsburgh's other two main backs injured, yet rushed for a career-best 147 yards and the winning 1-yard TD with 4:02 to go.
Overcoming unusual sloppiness, the Steelers (5-3) dominated the second half. They did so after they arrived in New Jersey hours before the game, which might have accounted for their carelessness. They had the fewest giveaways in the NFL entering the game, but were neglectful with the ball and in pass coverage; cornerback Keenan Lewis had 87 yards on two pass interference penalties. They wasted some great kick returns, too.
The Steelers' long day began with a plane ride to New Jersey, a short side trip to their team hotel — they couldn't get enough rooms to stay in the area on Saturday night and needed a league travel waiver to arrive on game day — then on to the stadium. Outside, folks tailgated and tried to blunt some of the devastation from the week's superstorm. As Giants fan Courtney Davis, whose town of Sea Bright was washed away by Hurricane Sandy, said in response to holding the game: "We need this."
"Coming in the day of the game was tough and we had to deal with that adversity," Redman said. "But the Giants had to deal with adversity all week. We just had to come in here and be ready to play."
Their hearts went out to those who packed MetLife Stadium despite the difficulties caused by a lack of power in many homes, long gas lines and, of course, severe damage throughout the region.
When Pittsburgh came on relentlessly, the one-quarter of the 80,991 seats occupied by Terrible Towel-waving Steelers faithful could celebrate an impressive comeback victory, coach Mike Tomlin's 60th win.
""We didn't talk much about the travel," Tomlin insisted, although Roethlisberger said teammates were in the hallways of the hotel sleeping after morning meetings.
"This is a game," Tomlin added. "What happened here is life and reality."