Published: Mon, November 5, 2012 @ 12:00 a.m.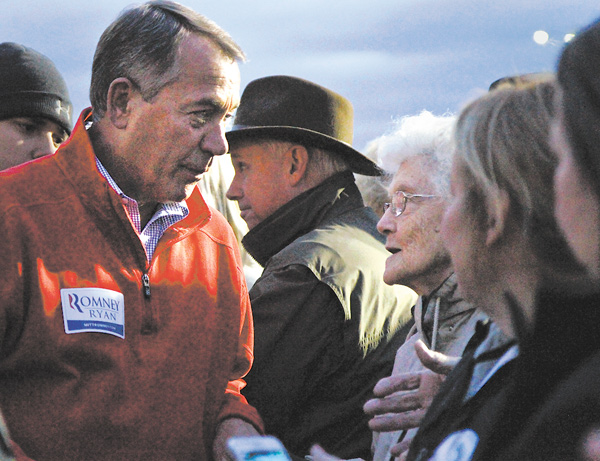 Photo
John Boehner chats with Virginia Whitacre of Warren after his speech in Niles on Sunday.
By Ed Runyan
NILES
John Boehner, Republican Speaker of the U.S. House, targeted the region's growing oil and gas industry when he spoke in the parking lot of the Great East Plaza on Sunday night.
"And there's another thing the president has really gone after, and that's coal, oil, gas. We know what's going to happen here. His EPA and 20 other agencies are trying to find some way to regulate fracking in America," Boehner said.
"You know what that means, don't you? That means they're going to try to shut down gas and oil wells on private land. They've already done it on public land."
Boeher, the third person in the line of succession for the presidency behind Obama and Vice President Joe Biden, talked about five minutes to about 250 people in front of the Republicans' Niles Victory Center at the plaza.
The large green "Team Boehner" bus pulled up in front of the center at about 5 p.m. after several other Republican speakers and candidates had already addressed the crowd, including Republican Congressional candidates David Joyce of Geauga County and Marisha Agana of Howland (running against Tim Ryan of Niles in the 17th District) and U.S. Senate candidate Josh Mandel, who is challenging incumbent Sherrod Brown.
Boehner, of suburban Cincinnati, made four stops in Ohio Sunday in support of Republican presidential candidate Mitt Romney and other GOP candidates, with Niles being the third stop. He was headed to Lisbon a short time after he finished speaking and greeting members of the Niles audience.
Mandel and Congressman Bill Johnson of Marietta, R-6th, who introduced Boehner, spent time talking about the healtcare reform act, with Mandel saying he will be the "51st vote to repeal Obamacare, and Johnson saying voters in two days need to send the president a "big message: we don't believe in Obamacare."
Boeher said Americans have "given [President Obama] a lot of opportunities. It hasn't worked."
After the rally, Chuck Artmam of Bristollville, a retired General Motors worker, said the speakers "reinforced that we need change. All we've had in the last four years is failure."
Yianni Varonis, a spokesman for Obama for America-Ohio, said later Sunday, "John Boehner's visit is nothing more than an effort to distract Mahoning Valley voters from Mitt Romney's true record. Whereas President Obama saved the auto industry, strengthening the Valley's middle class and moving our economy forward, Mitt Romney would've 'let Detroit go bankrupt' and would pay for tax breaks for the wealthy on the backs of the middle class."
Paul Ryan, GOP vice presidential candidate, will come to Youngstown Warren Regional Airport tonight for an election-eve rally.