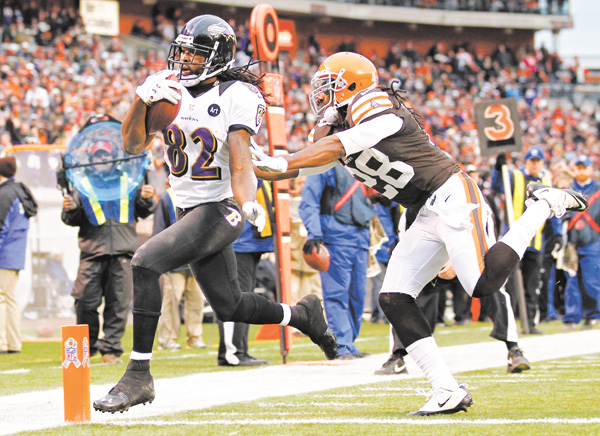 ---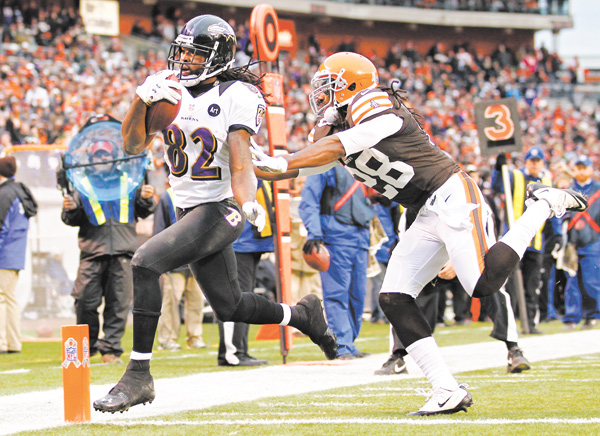 Photo
Baltimore Ravens wide receiver Torrey Smith (82) beats Cleveland Browns safety Usama Young to the goal line on a 19-yard touchdown catch with 4:26 left to play in Sunday's NFL game at Cleveland Browns Stadium. Baltimore won its 10th straight game over Cleveland — its 11th in a row inside the AFC North — with a 25-15 comeback win over the Browns.
Browns squander lead, fall to Ravens
Associated Press
Cleveland
There seems to be something about those plain orange helmets that fires up Joe Flacco, Ray Rice and the Ravens.
When they see them, they beat them — every time.
Flacco threw a 19-yard touchdown pass to Torrey Smith with 4:26 left as Baltimore won its 10th straight game over Cleveland and 11th in a row inside the AFC North with a 25-15 comeback win over the Browns on Sunday.
That's nothing new for Flacco, Rice and Ravens coach John Harbaugh.
"We're 10-0 against them," said Rice, who entered the league in 2008. "You didn't see Joe blink."
Smith caught Flacco's strike and spun away from cornerback Joe Haden as the Ravens (6-2) once again found a way to defeat the young Browns (2-7). It was also Baltimore's 15th straight win following a loss, and it helped the Ravens shake off a disastrous 30-point loss to Houston two weeks ago.
Baltimore improved to 5-0 after a bye week under Harbaugh, who was relieved following another rugged division game that included hard shoves, kicks, taunting and the usual amount animosity.
"Whew," Harbaugh said. "That was a fight. That's a really good football team. They are well coached, tough and physical. They are building something here. They are an up-and-coming AFC North-style team. That was an AFC North battle."
Phil Dawson kicked five field goals for the Browns, who were again competitive but failed to score a touchdown on five trips inside Baltimore's 20-yard line. The only time Cleveland got into the end zone, quarterback Brandon Weeden's 18-yard TD pass to rookie Josh Gordon was nullified by an illegal formation penalty.
"It's frustrating," said running back Trent Richardson, who gained 105 yards. "But we can't point fingers. We all have to be accountable for what we do. I've got to run harder. We gotta make better calls. We have to make sure we pick up blocks and catch the ball, and we have to do the right things.
"Once you're in the red zone, you gotta score some kind of way."
After Dawson's 41-yard field goal put the Browns ahead 15-14 with 8:48 left, Flacco got Baltimore's offense moving again.
The Ravens, who led 14-0 with touchdowns the first two times they had the ball, went six straight possessions without a first down when Flacco completed a 21-yard pass to Anquan Boldin. Two plays later, Flacco threw an incompletion on second down but Browns safety T.J. Ward was called for roughing.
"You need a play to get yourself going," Flacco said of his throw to Boldin. "That was a good one."
On third-and-10, Flacco then fired a slant pass to Smith, who wheeled away from a flat-footed Haden and sprinted into the end zone to make it 20-15.
Haden offered no excuses.
"When he broke inside I was coming down to make sure he didn't get the first down," Haden said. "He spun out on me. I took a bad angle and he made a really good move."
The Ravens then converted the 2-point try with Flacco hitting a wide-open Boldin to extend the lead to seven.
Cleveland had plenty of time left and two timeouts. But facing a 4th-and-2 at his own 28, Browns coach Pat Shurmur, who chose to punt two weeks ago at Indianapolis in similar circumstances, decided to go for it with 3:53 remaining. However, Weeden's pass for Greg Little was incomplete and the Ravens took over.
"I felt like we had a play that we liked and we didn't execute it," Shurmur said.
Baltimore's Justin Tucker kicked a 43-yard field goal to put the Ravens up by 10.
The Browns' last chance ended when safety Ed Reed intercepted Weeden, who went 20 of 37 for 176 yards and two interceptions.
"We had a chance." Weeden said. "We just couldn't finish it."