Keltys celebrate 50th anniversary at family dinner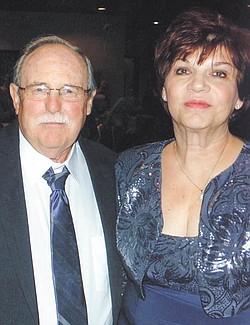 Photo
POLAND
Mr. and Mrs. John Kelty of Poland celebrated their 50th wedding anniversary with a dinner Sept. 28 hosted by their children and grandchildren at Johnny's Fine Food and Spirits in Boardman.
The former Shirley Adams and Mr. Kelty were married Oct. 3, 1962, at Sacred Heart Church, Youngstown.
Their children are Sherry and Rich Perrott of Hillsville, Pa.; Karen and Rich Hornyak of Belleville, Mich.; John Kelty of Poland; and Bill and Shari Kelty and Christine and Mike Bagnoli, all of Boardman. Grandchildren are Natalie Hornyak and Zachary and Dominic Bagnoli.
Mrs. Kelty retired from AVI Inc., Warren, in 2002.
Mr. Kelty was a truck driver for Nick Strimbu Inc. in Brookfield and retired in 2005.
The couple are members of St. Nicholas Church in Struthers.