Joanna Liberato, Jason Moore will wed Dec. 1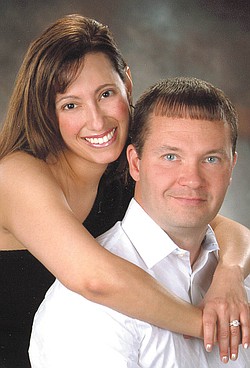 Photo
JOANNA LIBERATO AND JASON MOORE
CANFIELD
Corrine Liberato and Mr. and Mrs. Angelo Liberato, all of Canfield, are announcing the engagement and upcoming marriage of their daughter, Joanna Liberato, also of Canfield, to Jason Moore of Girard.
The parents of the groom are Terry Moore and Tina Bates, both of Austintown.
Believers Christian Fellowship in Warren will be the setting for the 2 p.m. Dec. 1 ceremony. An evening reception will be at Mr. Anthony's in Boardman. Invitations will be extended for both.
The bride-elect attended Youngstown State University. She is the owner of a Belleria Pizza Shop.
The future groom received a bachelor's degree in nursing from YSU. He is a medical sales consultant for Alcon Laboratories, Plano, Texas.