---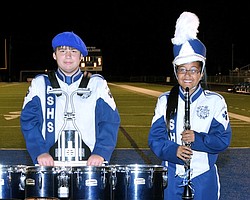 Photo
DUSTIN AYERS (left) and TIERRA BROWN (right)
Names: Dustin Ayers and Tierra BrownInstruments: Percussion and Clarinet
Q. When did you start playing your instrument?
A. Dustin began playing his instrument when he joined the fifth-grade band at Poland McKinley School. Tierra began playing the clarinet in the eighth grade at Poland Middle School.
Q. Best memory of being in band/marching band?
A. Dustin and Tierra have many wonderful memories of being the Poland Seminary High School band. They enjoyed their trips with the band to Cedar Point and Disney World. However, some of their best memories are playing at the BCS Championship Game in New Orleans in January, and also attending the Massillon Band Night. Tierra said that attending the BCS Championship game in her junior year was definitely her favorite trip because it was a big opportunity to march in the Superdome – "it was the best performance ever."
Q. What competitions did you participate in and awards you won?
A. Tierra participated in Solo and Ensemble her junior year and received 1s on both of them.
Q. Why is music important to you?
A. Dustin enjoys playing in the band because the music has influenced his life and taught him to be responsible while also having a great time. Tierra said that music is something she is really good at and she has a lot of fun in the band.
Q. What college do you hope to attend/intended major?
A. Dustin plans to attend Ohio State University in the NROTC program and major in Nursing. Tierra would like to attend Kent State University and major in instrumental music education.