WR Port Authority OKs contract deal for DeLeon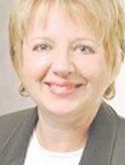 ---

Photo
By Ed Runyan
VIENNA
The Western Reserve Port Authority approved a compromise Thursday that ends its contract next month with its executive director and offers her an incentive- laden six-month deal with a base pay of $47,500.
As predicted, the board split 4-4 on a motion that member Don Hanni III offered — to terminate the contract of Rose Ann DeLeon, who has handled economic development work for the port authority the past three years.
But members Scott Lewis and Patrick Pellin followed that with a motion that would give DeLeon six more months and give the authority the option of signing her up for six more months in June.
Calls to DeLeon, who is in Columbus, were not returned seeking comment on whether she will accept the offer. Chairman Scott Lynn said a conversation he had with DeLeon after the meeting suggested she would accept it.
DeLeon said last week she would accept a pay cut from her current $155,000 annually to $95,000 annually with incentives possibly raising her pay to $150,000.
Hanni has said DeLeon's performance the past three years doesn't warrant her being brought back at $95,000 annually. He and other members have said the port authority should advertise to hire someone else.
Trumbull County Commissioner Dan Polivka and Mahoning County Commissioner Anthony Traficanti, who both attended the meeting, said afterward they are happy that the board was able to reach a compromise to break the deadlock from last week, when the board found itself unable to reach a majority on either terminating DeLeon's contract or renewing it for one year at a lower rate.
Failure to make a decision by next Wednesday would have allowed her current contract to roll over for one year at $155,000 annually.
"I base things on performance," Traficanti said. "I want a performance audit."
When asked whether he thinks DeLeon has done a good job, Traficanti said, "I've not seen much of her" and said maybe it is time to "lure some new talent here."
Polivka said the six-month idea is "a start. It's a compromise. This will give us some benchmarks. It'll give them a chance to evaluate her in six months."
Polivka said he thinks one reason the board has had trouble agreeing on matters such as this is because the board has not been "inclusive" with all of its members.
Lewis said after the meeting that he and other board members declined initially to terminate DeLeon's contract because it appeared there were four members unwilling to consider giving her a new one.
He praised Pellin for offering the compromise and said DeLeon is "talented." She played a role in the deal that moved Phantom Fireworks to the former Delphi Packard Electric facilities in Howland and Bazetta, put together the bond financing that helped the airport make recent improvements and helped V&M Star acquire the former Indalex plant in Girard, Lewis said.
Hanni said after the meeting he doesn't think the port authority's legal counsel, Dan Keating, followed proper rules of procedure in allowing the vote to offer DeLeon a six-month contract and said he probably will fight the decision on that basis.
Under the new deal, DeLeon would be paid an amount equal to 2.5 percent of any money secured in grants and 1 percent of any bond-financing project or any lease business. Her pay would be capped at $150,000.
The port authority would have final approval over any new hires.
That was not the case when DeLeon unilaterally hired Sarah Lown one year ago to be her assistant at a pay rate of $65,000 annually.