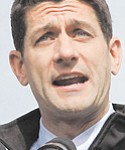 Paul Ryan to cap off campaign in Vienna
VP nominee plans Monday night stop at regional airport
Published: 11/2/12 @ 12:08
VIENNA
The last campaign stop for Paul Ryan, the Republican vice-presidential nominee, before Tuesday's election is a rally at Winner Aviation at the Youngstown-Warren Regional Airport in Vienna Township.
Ryan, a congressman from Janesville, Wis., starts Monday, the day before the general election, campaigning in Reno, Nev., makes additional stops — though none has been announced yet — and finishes with an evening rally at the airport in Vienna.
"It's remarkable to think that the campaign recognizes the importance of the Mahoning Valley to make it [Ryan's] final campaign stop," said Mahoning County Republican Party Chairman Mark Munroe. "It's the climax of a two-year campaign."
The doors will open at 6:45 p.m. with the program starting at 9:15 p.m. Monday.
Tickets can be picked up at the Mitt Romney/Ryan Victory Center office in the Great East Plaza in Niles or by going online to mittromney.com/oh.
Mahoning and Trumbull counties are longtime Democratic strongholds.
But Republicans are looking to keep the Democratic ticket of President Barack Obama and Vice President Joe Biden under 60 percent of the vote in those two counties. The last time that happened was in 1984 when Republican Ronald Reagan cruised to an easy re-election victory over Democrat Walter Mondale.
Monday will be Ryan's third campaign stop in the area.
Ryan made an unannounced stop at the Hot Dog Shoppe in Warren on Aug. 16.
He had a town-hall meeting Oct. 13 at Youngstown State University, followed by an unannounced stop at the St. Vincent de Paul Society's soup kitchen in downtown Youngstown that attracted national headlines when Ryan, accompanied by his family, cleaned a few pots and pans that were left dirty at the request of his campaign as part of a photo opportunity.
The lone visit of Romney, the Republican presidential nominee, was in Youngstown on March 5, the day before he won a close GOP primary in Ohio.
Biden has campaigned in the Valley three times, most recently Monday at Youngstown's Covelli Centre with former President Bill Clinton. Biden was filling in for Obama, who canceled his appearance to monitor superstorm Sandy. Obama campaigned once this year in the Valley.
Also, Speaker of the House John Boehner will stop Sunday in Niles and Lisbon as part of a three-day, 13-city bus tour through Ohio in support of Romney and Ryan, as well as Ohio Treasurer Josh Mandel, the party's U.S. Senate candidate, and Republicans running for Congress.
Boehner is scheduled to be at Romney's campaign office in the Great East Plaza, near Eastwood Mall in Niles, at 4:30 p.m. and in Lisbon's town square at the intersection of Market Street and Lincoln Way at 6 p.m. Sunday. The tour starts Saturday.
Meanwhile, Wesley Clark, a retired four-star general and former NATO supreme allied commander for Europe as well as a 2004 Democratic presidential candidate, will campaign on behalf of Obama at noon today at Youngstown State University.
Joining Clark will be U.S. Rep. Tim Ryan of Niles, D-17th; ex-U.S. Rep. John Boccieri, an Air Force Reserves lieutenant colonel; and former Ohio Senate President Harry Meshel, a World War II veteran.
Don't Miss a Story
Sign up for our newsletter to receive daily news directly in your inbox.