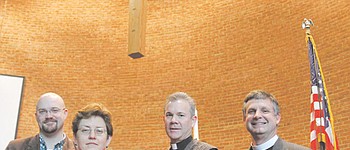 Valley pastors: Turn off cynicism; tune in values on Election Day
Election Day 2012
Published: 11/2/12 @ 12:09
By LINDA M. LINONIS
YOUNGSTOWN
On Election Day, the most politically charged time of year, a group of Valley pastors is promoting a nonpartisan, ecumenical gathering around the Lord's table.
Another nonpartisan campaign, spearheaded by PICO (People in Communities Organizing), is calling for a "media fast" today in response to campaign negativity.
The Rev. Bradley Pace, rector at St. John's Episcopal Church, said he was intrigued when he chanced upon Election Day Communion on the Internet.
The Rev. Mr. Pace, who previously lived in Illinois, said Ohio's battleground status showed him attack ads and unpleasantness in political campaigns that he hadn't experienced before. "It's a concern," he said.
The Election Day Communion event promotes "gathering at the Lord's table to remember, to practice, to give thanks for and to proclaim allegiance to Christ." It will be Tuesday at Zion Lutheran Church, 3300 Canfield Road, Cornersburg (Youngstown).
"We can disagree but pray together. Let's pray for the health of the nation together," Mr. Pace said.
"Jesus gave us the example of how to work for a better world," Mr. Pace said. He said a sense of justice, helping the poor and providing opportunities for people have real meaning. "Let's get over the divisiveness."
The Rev. Duane Jesse, senior pastor at Zion Lutheran, said the Election Day Communion is an opportunity for the church to open its doors to other religions. "We fully recognized that on Tuesday night, there will be winners and losers. But great care should be taken with the democratic process," he said.
The Zion pastor observed that this political campaign has been "so divisive" and that there's never been a greater need for such an event.
"I think it's an opportunity to lift people up in prayer and the election process as well," the Rev. Mr. Jesse said. "Government with God's guidance" maintains values and ethics, he added.
The Rev. Chris McKee, associate pastor at Christ Centered Church and senior organizer with Mahoning Valley Organizing Collaborative, will deliver the message. "The service will be a chance for people of faith to get together ... away from the noise, rhetoric and negativity. We will celebrate what we have in common," he said.
He said that in our "sound-bite society," people may make snap decisions. "We need to remember what our faiths teach us."
The Rev. Mr. McKee added that following our "moral compass" leads to appropriate decisions.
Troy Jackson, an Evangelical pastor at University Christian Church in Cincinnati, is a PICO organizer and director of Ohio Prophetic Voices, a collaborative of clergy and congregants who focus on social justice.
Jackson said he and other clergy are concerned about the "toxic" tone of media ads in the Buckeye State.
"The loudest voices and commercials have an influence. We need to detox from that and re-center on what matters most."
PICO's nonpartisan campaign, "Turn Down the Noise. Fast. Pray. Vote," promotes the effort as "an avenue to be proactive about shaping the environment that will guide their votes."
The pastor said he felt that "people of faith can get corrupted by the negativism."
The media fast will allow voters to remove themselves from exposure to ads and focus on core values in their faith to determine their vote.
Jackson said this will send a message that the negative ads are unacceptable, aren't swaying votes and are a waste of money.
Jackson said too often many voters are dismayed and discouraged by what appears to be the "bigger voices of corporations and the wealthy" in elections even though each person has a vote.
Jackson said the "media fast" grass-roots effort began with this campaign but will gain momentum and "set the tone" in the fall of 2016.
Don't Miss a Story
Sign up for our newsletter to receive daily news directly in your inbox.