Orrville ousts South Range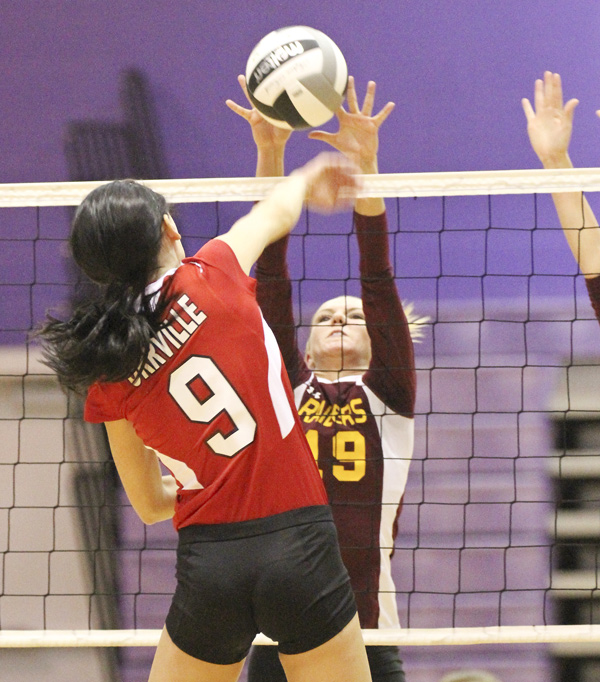 ---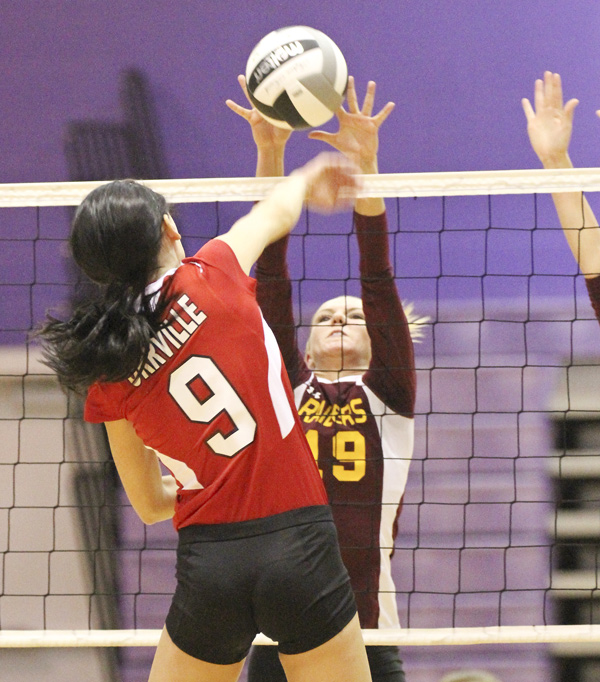 Photo
South Range middle hitter Caitlyn Adams (19) blocks a shot by Orville's Rylee Scott (9) during the Division III regional volleyball semifinal Thursday at Barberton High School. The Raiders fell to the Red Riders, 3-1.
Raiders' best season comes to end in four games vs. Red Riders
By Tom Williams
BARBERTON
In their regional tournament debut, the South Range High volleyball team shook off a dose of nerves to throw a bit of a scare into Orrville at Thursday's Division III semifinal at Barberton High School.
But the more experienced Red Riders eventually brushed away the challenge to earn a four-set victory by scores of 25-17, 15-25, 25-16 and 25-11.
"We were definitely a little bit nervous," Raiders senior middle hitter Caitlyn Adams said. "This is as far as we've ever gone, biggest place we've played at, lots of fans. I think nerves were high but once we got that straightened out, in the second game we came out strong."
The first game seesawed until Orrville setter Hannah Plybon's second time to serve when she scored six points. By the time she sent the ball into the net, the Red Riders had a 22-15 advantage.
In the second game, the Raiders responded with a surge, jumping out to a 16-5 lead and rolling to a 10-point victory. Libero Jordan Youngs, a sophomore, scored five points during that match.
Adams said the improved play came after "we realized what we were doing wrong. We realized that Orrville was a beatable team for us and we could hang with them."
But behind Leah Herrington's eight serving points, the Red Riders roared back to win game three, 25-16.
They dominated the fourth game as well to earn a regional final appearance. The Raiders finish 18-12.
"I don't know that I anticipated [the regional trip] until about halfway through the season," second-year Raiders head coach Rachel Storm-Baker said. "But I expected it.
"It was a phenomenal season, it was just a bad night," Storm-Baker said. "We're very young and we don't have a lot of experience, so I believe that we stepped up to the plate — we just didn't finish it off.
"We played aggressive a lot of times, but there were some plays where we played a little timid."
Youngs, a sophomore, contributed 16 digs and 12 points with three aces. Freshman middle hitter Lynnie Ritter made four blocks and four kills while junior outside hitter Ashley Shetter made 11 kills and five digs. She scored six points with an ace.
Junior outside hitter Stevie Taylor made six kills and five digs while freshman setter Madison Juillerat made 21 assists.
"I'm so proud of our coaches for sticking with us because we've had coaches who would not of stuck with us this long," said Adams of Storm-Baker and assistant Sarah Fishel.
Adams and and the other senior, setter Brooke Ball, also expressed appreciation for the fan support.
"Normally, we don't normally have a student section that large," Ball said. "It was a lot of fun, it was really nice to see some many people come out for us."
Adams said, "It was really amazing to look out and see all those people there. It really gives you a lot of energy, something to play for — not just your teammates but everybody there who's watching."
Both felt the regional trip was a special way to cap their varsity careers.
"The beginning of our season was a little rough, we had some ups and downs," Ball said. "But by the end of the season, we really played hard and we just came out like a new team."
The Raiders have four juniors, four sophomores and four freshmen returning for her third season as head coach.
"I believe a lot of our success this year was because of last year," Storm-Baker said, "So I hope that next year we'll build on this experience."