Megan Sponcil | Christopher Kline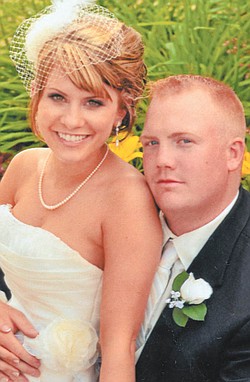 Photo
Megan Sponcil and Christopher Kline
NEW WATERFORD
Megan Sponcil of New Waterford became the bride of Christopher Kline of Salem during a ceremony at 3:30 p.m. June 16 in East Fairfield United Methodist Church. The Rev. Michael Namy officiated.
The bride is a daughter of Marge Sponcil of New Waterford and the late Gary Sponcil. Parents of the groom are Carl and Pamela Kline of East Palestine.
The bride wore an ivory strapless fitted drop-waist ball-gown with asymmetrical ruffles leading to a cathedral train.
As matron of honor, Amy Shaffer, sister of the bride, wore a dark pink gown. Nadine Nash was maid of honor, and bridesmaids were Jamie Hostetter and Carly Kline, sisters of the groom, and Erin Lanney and Stacie Kissel. The maid of honor and attendants wore dark teal gowns. Isabel Krieg, bride's cousin, was flower girl.
Shawn McCauley performed the duties of best man. Groomsmen were John Kline, brother of the groom, and Pat Figley, Travis Newman, Rick Arthur and Travis Foreman. Liam McCauley was ring bearer. Ushers were Donnie O'Brien, cousin of the groom, and Kyle McQuistion, Mike Martinez and Nate Sugar.
The bride earned a bachelor's degree in family studies from Youngstown State University. She is a licensed esthetician with Advanced Dermatology in Boardman.
The groom, who attends YSU, is employed at Tabor's Landscape and Garden Center in North Lima.
A reception was at Salem Golf Club.
After a wedding trip to Las Vegas, the couple reside in Salem.