Kristyn Mistovich | James Woodward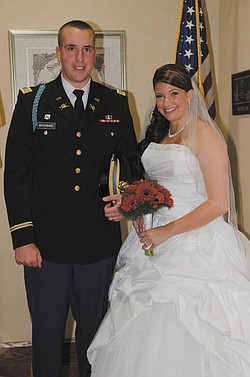 Photo
Kristyn Mistovich and James Woodward
BOARDMAN
Kristyn Marie Mistovich of Boardman and James Peter Woodward of New Albany, Ohio, exchanged marriage vows before Deacon Paul Lisko in a ceremony at 1:30 p.m. Sept. 8 at St. Charles Church.
The newlyweds were honored at a reception at Mr. Anthony's.
Parents of the bride are Joseph and Andrea Mistovich and Eric and Karen Lindberg, all of Boardman. Parents of the groom are Dave and Cathie Woodward of Struthers.
The bride wore a white full A-line strapless gown with draped pickups accented with a left side bow.
Sisters of the bride, Katie and Kara Mistovich, were maids of honor. Bridesmaids were Megan Ridge, Katie Ress, Katie Stoll, Emily Frank and Kelly Lysowski. The attendants wore navy blue gowns.
Aaron Kampfer performed the duties of best man. The groomsmen were Dave Woodward, brother of the groom, and Nick Spanos, Jim O'Brien, Brian Delia, Joe Buday and Paul Buncic. Ring bearer was Ivan Lindberg, the bride's brother.
The couple are graduates of Youngstown State University.
The bride earned a master's degree in social work and is an adolescent therapist at Pomegranate Health Systems, Columbus.
The groom earned a bachelor's degree in political science and was a member of ROTC. He is a first lieutenant in the Ohio National Guard in Columbus.
After a wedding trip to Punta Cana, Dominican Republic, the couple reside in New Albany.