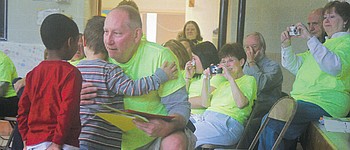 A day for Austintown's 'Mr. Bill'
Published: 11/2/12 @ 12:01
By Elise Franco
efranco@vindy.com
AUSTINTOWN
Waves, hugs and high-fives from 300 Lynn Kirk Elementary students nearly brought Bill Sheldon to tears.
Sheldon, 58, has been a custodian with the Austintown Local School District for 18 years, many of which were spent working at several elementary schools. Sheldon, affectionately referred to as "Mr. Bill," was diagnosed in August with lymphoma, and a weakened immune system made it necessary for him to switch to a position at Fitch High School.
To celebrate Sheldon's time at Lynn Kirk and bid him farewell, Thursday was named "Mr. Bill Day" throughout the district, said building Principal Anthony Russo.
"We're celebrating here because this is Mr. Bill's home," Russo explained. Students in kindergarten through third grade wrote poems, read stories and sang songs letting Sheldon know how much they would miss him at Lynn Kirk.
Dan Bokesch, director of curriculum, said the students' hard work for Sheldon is just what he needs to help him through his difficult illness.
"When you're in the situation Mr. Bill is in, all of your good thoughts and words are positive thinking," he said. "It's all going from your heart to his heart."
Sheldon said he's sad to leave Lynn Kirk and the students he's gotten to know over the years. "It's been an emotional day," he said.
Support from district staff and the Mahoning Valley community also has poured in.
Patty Lynch, a retired district employee and longtime friend of Sheldon's, said she and employees Mary Breckner and Patti Thompson decided to spearhead fundraising efforts for Sheldon and his family.
"When Bill was not feeling well we were all concerned, and when he was diagnosed with cancer it just hit us," Lynch said. "To know Bill is to love him because it doesn't matter what kind of day you had, he would always put a smile on your face."
Lynch said teachers began having dress-down days where they would wear jeans on Fridays and, in turn, donate to a fund set up for Sheldon. "Every staff member in the district got on board, and older students started asking how they could help."
The largest fundraising effort yet will be a pasta dinner from noon to 4 p.m. Sunday at Austintown Middle School. The cost is $6.50 for adults and $3 for children and will include events such as an auction.
Lynch said because Sheldon is undergoing chemotherapy and is unable to work as often as before the diagnosis, the money raised will go toward helping to pay bills.
"We want to do this so he can just stay home and relax and not worry about the bills. I want him to concentrate on getting well," Lynch said. "He's just a brave man who will do anything for anybody."
Sheldon said he's overwhelmed by the support. "I just can't believe it. You just don't realize how many people have love for you."
Don't Miss a Story
Sign up for our newsletter to receive daily news directly in your inbox.