Danielle DeMarco | Adam Meek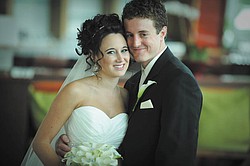 Photo
Danielle DeMarco and Adam Meek
ORLANDO, FLA.
The Peabody Hotel provided the setting for the Sept. 22 wedding of Danielle DeMarco and Adam Meek, both of Orlando. Rabbi David Degani officiated at the 5:30 p.m. ceremony that was followed by a reception in the hotel.
Parents of the bride are Dr. and Mrs. Robert DeMarco of Orlando, formerly of Boardman. The groom is a son of Alan Meek of Charlottesville, Va., and the late Katherine Meek.
The bride wore a diamond white strapless gown styled with a sweetheart neckline and ruched bodice. Its beaded waistline was accented with Swarovski crystals creating a sparkling belt.
Matron of honor for her sister was Jaclyn Cohen. Bridesmaids were Ilana Fishman, cousin of the bride, and Brittany Bleggi, Brianna Prusak, Alli Sherman and Kendra Kasznel. Junior bridesmaids were Maddie Dvorak and Hannah Bruckheim, bride's cousins. The attendants wore black gowns with light blue banding, and junior bridesmaids wore blue gowns with black banding.
Adrian Fife, the groom's brother, performed the duties of best man. Groomsmen were Josh Cohen, brother-in-law of the bride; Jared Meek, groom's cousin; Brandon Fishman, cousin of the bride; and Rich Gouveia and Brandon Bishop. Ushers were Jake Bruckheim, bride's cousin, and Samuel Meek, cousin of the groom.
The bride earned a bachelor's degree in psychology from the University of Pittsburgh. She is a character performer for Disney World, Sea World and Universal Studios in Orlando.
The groom attended the University of Pittsburgh and is a project engineer for Sema Construction Inc., Orlando.
After a wedding trip to Sandals La Toc, St. Lucia, the couple reside in Orlando.