Boardman runners qualify for state meet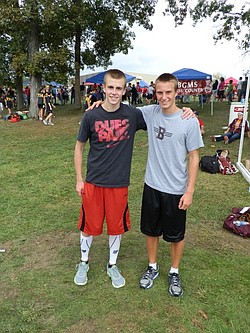 Photo
Neighbors | Submitted.Boardman juniors Mark Hadley (right) and Alan Burns (left) qualified for the OHSAA State Championship with their second and 10th place finishes out of 126 runners the Regional Championship course at Boardman High School. The boy's team finished fifth overall just missing the schools first state qualifying team in 23 years and closed their season with a final record of 152-9.
Boardman junior cross country runners Mark Hadley and Alan Burns will compete at the state meet today after finishing second and 10th, respectively at last weekend's Division I regional meet at Boardman
The boys team finished fifth overall, just missing the school's first state qualifying team in 23 years and closed the season with a final record of 152-9.
"Extremely thrilled for Mark and Alan," said Spartans head coach John Phillips. "I am also extremely proud of our team — we ran tough and beat a lot of great teams today and we may have been heartbreakingly short, but now we have a new goal for next year."
Freshman Nathan Hadley had the best performance of any ninth-grader in the race with his 30th-place finish. Sophomore Juan Santiago was 52nd overall, senior Sam Sheronovich was 57th, junior Justin Maroni was 71st and classmate Jacob Kelleck was 73rd in a personal best time of 17:32. Kelleck and Burns earned the final BW3 'Runner of the Week' honors.
"We had the second-best average as far as time goes and got all seven of our guys in before everyone else except for Mentor, so looking at those numbers and not advancing to state as a team is really tough," explained Phillips.
Earlier in the week, the boys and their coaches displayed a symbolic bond of unity by shaving 'Flying B's' in their hair and were greeted in the morning of Oct. 19 with their homes toilet-papered, courtesy of the Center and Glenwood Middle School cross country teams.
"It was a special week for our team — the guys really came together and had a lot of fun," explained Phillips. "Coming up short will in no way overshadow our team's success this season."
The Spartan varsity squad is made up of juniors Hadley, Burns, Jacob Kelleck, Justin Maroni, sophomore Juan Santiago, and freshman Nathan Hadley. Also on the varsity is senior Sam Sheronovich, who ran his last race in a Boardman uniform on Oct. 19.
"Sam is a great kid and a hard worker, he will definitely be missed next season," said Phillips. "He is one of 11 seniors from this graduating class that have led our program to elite status and his improvement and dedication over that time period is an example for his younger teammates and future generations of runners to follow."
Hadley and Burns will run at 12:30 p.m. today at National Trail Raceway in Hebron seeking to earn All-Ohio status.
"Mark and Alan will represent our program, school and community very well [on Saturday]," said Phillips.